The mayoress of Dresden, Helma Orosz, on Thursday urged the public not to jump to conclusions about the Eritrean found dead outside an apartment building complex on Tuesday morning.
The 20-year-old, identified by authorities only as Khaled I:, was found to have stab wounds in his neck and chest. Police had initially said there was no indication of foul play.
Dresden prosecution spokesman Lorenz Haase said the item used to inflict the wounds had not been found. Traffic videos were being examined. A total of 25 investigators were working on the case.
Investigative blunder?
Volker Beck, the Green party's public security spokesman in Germany's federal Bundestag parliament, told the German news portal Mopo24 that initial investigative mistakes surrounding the asylum-seeker's death must be clarified completely.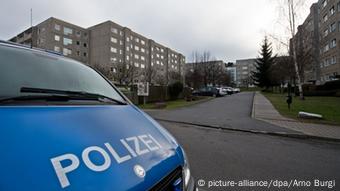 Did police delay the probe in Dresden?
"I fail fully to understand the negligent actions of the investigative authorities," Beck said, referring to apparent delays in securing evidence at the site.
Mopo24 is the website of the Dresden Morgenpost, the newspaper in the capital of the regional state of Saxony.
Beck's Greens colleagues in Saxony's regional parliament disclosed on Thurday that they had learned that two swastikas had been smeared on the door of the victim's jointly sharing flat.
In Berlin, flowers were placed outside Saxony's liaison bureau (pictured above) in the federal capital.
Asylum-seekers 'extremely scared'
Saxony state's integration minister Petra Köpping told the Protestant church news agency EPD that asylum-seekers in Dresden felt "extremely scared.
Out on Dresden's streets they faced verbal abuse. As evening approached, they were frightened to go out "as soon as it was dark," she said.
Dresden's mayoress Orosz said the death prompted many questions, but it was important that there was no speculation in one direction or another while investigations proceeded.
Tensions high amid PEGIDA rallies
For three months, Dresden has been the scene of large anti-foreigner demonstrations organized almost weekly by a purportedly patriotic European and anti-Islam movement PEGIDA.
Its latest rally on Monday drew 25,000 people. Elsewhere in Germany there have been a series of anti-PEGIDA demonstrations emphasizing social tolerance and multiculturalism.
Khaled I. had lived in Dresden since September and was sharing accommodation with seven other asylum-seekers from Eritrea.
The local branch of German workers' charitable service AWO Saxony, which helps the Eritreans, said in January an attempt was made to kick in the door of their four-room apartment. At the time, AWO filed charges.
10 years since death in police custody
Last week, in a separate case, 700 people demanding official clarification marked the tenth anniversary of the mysterious death of a Sierra Leonean asylum-seeker while in police custody in Dessau, a city in Saxony-Anhalt state.
Oury Jalloh died on January 7, 2005 during a blaze in a custodial cell, which authorities claimed he ignited while restrained on a mattress. A fresh investigation by Dessau prosecutors into the cell fire is continuing after a series of court hearings and legal battles in Saxony-Anhalt's regional capital of Magdeburg.
The police officer who supervised Jalloh's custody was fined 10,800 euros ($12,700) in 2012. It became effective last September, when Germany's highest criminal court, the BHG, rejected the officer's appeal.
ipj/rc (dpa, epd, AFP)