Police said two Taliban suicide bombers were involved in a twin attack on vehicles carrying Afghan troops on Wednesday morning.
Criminal investigation police chief Mohammad Farid Afzali said the first attack was on a bus carrying Afghan National Army officers in the west of the city, killing at least seven and wounding 15. A second attacker, who like the first was said to have been on foot, blew himself up in front of a second bus in northeast Kabul.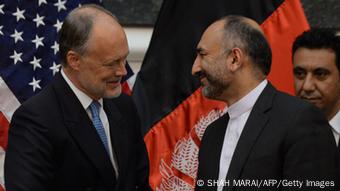 The deal, which cements the status of US troops who remain behind, has proved more than controversial
The attacks show that the Taliban remains as capable as ever of attacking targets within the capital. The incidents come after Afghanistan's new President Ashraf Ghani on Tuesday signed a long-delayed .

According to the AFP news agency, the Taliban - which has strongly criticized the security deal that permits US troops to remain on Afghan soil for longer - claimed responsibility for the attack.
'Stooge government, slave pact'
"This is a clear message to the stooge government that signed the slave pact, and we will step up our attacks after this," AFP reported Taliban spokesman Zabihullah Mujahid as saying. An initial claim by the Taliban was that 20 soldiers had been killed.

Ghani's predecessor, Hamid Karzai, - who led the country since the US-led invasion in 2001 - had refused to sign the agreement. The "Status of Forces Agreement" allows the American troops to have legal immunity in the event of a violation of Afghan law.
The deal allows at least 9,800 US soldiers to stay in the country after the NATO-led coalition officially ends its combat operations there at the end of this year. According to the wording, some US soldiers may stay "until the end of 2024 and beyond," although this timescale has been downplayed by military chiefs.
rc/mz (AFP, AP)