David Bowie died in New York City on January 10, 2016, just two days after his birthday on January 8. The British singer would have turned 71 years old this year.
Various events honoring Bowie have been set up in Berlin, where Bowie is well-remembered. He lived in West Berlin for a few years in the late 1970s, and recorded two of his most famous albums there, "Low" and "Heroes."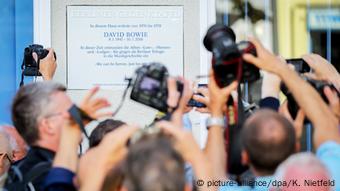 David Bowie's Berlin home
Hansa Studios, where Bowie started recording in 1976, has scheduled daily walks retracing the legendary musician's footsteps from January 5 to 11.
The Neues Ufer café, one of Bowie's regular haunts in the district of Schöneberg where he lived, and the club Lido plan tribute parties.
In a world premiere, Germany's Sky pay TV channel will be showing the documentary "Hansa Studios: by the Wall 1976-90" — a tribute to the musician's Berlin years.
In 2016, the city unveiled a memorial plaque at Hauptstrasse 155, in Berlin-Schöneberg, the house where David Bowie lived from 1976 to 1978.
db/eg (with dpa)