It took me the better part of three decades to "get" David Bowie. When I was a kid, the greatest hits on his "Hunky Dory" album were fixtures on rock radio, and later in life, I covered the song "Suffragette City" with my country band - chiefly because I wanted to sing "Wham, bam, thank you ma'am" in a fake Southern accent. But that's as far as it went. I was too young to take drugs and hallucinate to "Ziggy Stardust and the Spiders from Mars," too much into independent music to like the mainstream pop "Let's Dance", and too disinterested to check out hit-and-miss offerings like "Earthling" or "Heathens" from the 1990s and early 2000s.
And then on January 8, 2013, after maintaining complete musical silence for 10 years, Bowie suddenly dropped the single "Where Are We Now." I first heard it while driving my car.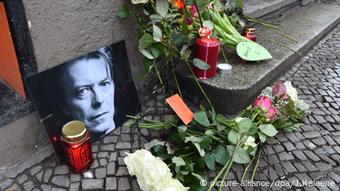 Mourners left flowers and candles in front of Bowie's former apartment in Berlin today
It's a soft, nostalgic, even sentimental piece of music in which Bowie recalls moving to Berlin in the 1970s, rediscovering that he could do simple things like catch the train to Potsdamer Platz and hang out with semi-regular folk in clubs like the Dschungel. It's a song about memories of starting life over, whose chorus asks the troubling, unanswered question "Where are we now?"
As I listened, I too, remembered. Visiting West Berlin three weeks before the fall of the Wall. Watching people on TV cross the soon-to-be-defunct border on November 9, 1989. Playing pick-up football on what would soon become the massive building site of Potsdamer Platz, after moving to the city in 1994. Hanging out in unlicensed clubs with names like Elektro and Eimer (The Bucket). Starting over in life.
I had to pull over and wait for the song to finish before I could drive on through Berlin, a city where so much has been built in the past 20 years - and so much lost.
Looking in the mirror
Like Johnny Cash, David Bowie saved some of his best for last. On the album following the single, the musician famous for inventing and discarding personae like sets of clothes set off in a most un-Bowie-like direction: sincerity.
At the root of this change was a realization that the years were slipping away and the end was approaching, and with typical Bowie canniness, he came up with a simple way to drive home the point to listeners. The cover of the 2013 CD recycled that of Bowie's 1977 record "Heroes," with the title crossed out and the young singer's face obscured by a white square with the words "The Next Day." On the inside of the CD was an identically-sized reflective square.
The message was clear: This is a record about looking in the mirror. And it's tough to be disengaged and artificial when you're staring at your own ageing face. The chorus to the record's title song admitted: "Here I am, not quite dying."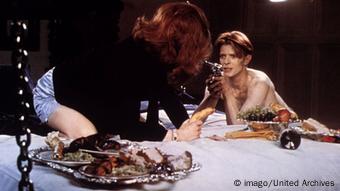 David Bowie depicted an alien in the 1976 film "The Man Who Fell To Earth"
Bowie made more influential albums than "The Next Day," but never, I'd surmise, did he produce one more heartfelt. Nor is it accidental that he chose to recycle the cover of an album from his "Berlin period." Berlin was the place the pop star who posed as Ziggy Stardust, Aladdin Sane, the Thin White Duke, etc. visited and revisited whenever he wanted to get real: The place where the alien fell to earth.
Berlin's adoptive son
If Berlin was important to Bowie, Bowie was also important to Berlin. The apartment house at Hauptstrasse 155, where Bowie lived for 18 months, is not much to look at, an unadorned grey tenement building on a noisy main thoroughfare. But it's difficult to walk past it, or indeed any of Bowie's former haunts in the West Berlin neighborhoods of Schöneberg and Charlottenburg, without humming one of his melodies.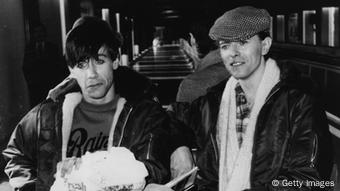 Iggy Pop and David Bowie revolutionized music in Berlin
As culturally interesting as it was, walled-in West Berlin could be an impossibly grim cage. The thought of Bowie, Iggy Pop and Brian Eno recording at Hansa Studios gave the city some much needed vibrancy - no matter how overplayed and overwrought the song "Heroes" might be.
No wonder then that the 2014 David Bowie exhibition in the Martin-Gropius-Bau museum was the town's hottest ticket from the morning it opened to the afternoon it closed. Walking through the extensive collection of costumes, sheet music, videos and rock-and-roll accoutrements, I was struck by just how talented a musician he was, who was pretentious on occasions, sure, but more often playful, outlandish and dignified. He straddled the divide between art and entertainment with unusual balance.
In many respects David Bowie was like Berlin: sometimes over-hyped and overrated, but undeniably one-of-a-kind. The city continues after the man is gone, which is perhaps another reason why he chose to revisit the place late in the game. When the news of Bowie's death broke this morning, the world was saddened by the loss of one of its greatest pop musicians. Berlin is mourning one of its favorite adoptive sons.