Denmark stepped up its terror alert level Saturday on the ninth anniversary of the September 11 attacks, as police charged a man suspected of detonating a bomb in a Copenhagen hotel bathroom on Friday.
The suspect, who appeared in court Saturday, denied the charges against him - including possession of a firearm - and said through a French interpreter that he can remember neither his name nor age.
The man appeared on cruches with injuries to his face and was missing the lower part of one leg, news agency Ritzau reported.
Media reports have suggested several different origins for the man, ranging from North Africa to Luxembourg.
Police on heightened alert
Jakob Scharf, head of the Danish Security and Intelligence Service (PET), said in a statement that police believed the explosive detonated was intended for a different location.
"There are circumstances that point towards an unsuccessful terror attack."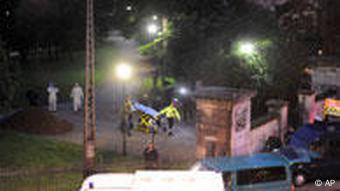 Police continue to search Oersted Park for explosives
Chief Police Inspector Jorn Aabye told reporters that Danish police were on special alert, meaning that police were following "what we call 'information preparedness' - that we sharpen our attention, that we make sure all colleagues are informed to the extent necessary in relation to the situation."
Suspect seen running from site of the blast
Police arrested the man Friday after he was seen running from the site of the blast, Joergensen Hotel in central Copenhagen.
Police surrounded the suspect in nearby Oersted Park, where security personnel removed a bag wrapped around his waist with remote controlled cutting pliers. Police then shot at the bag.
A police spokesman said on Friday the bag probably did not contain explosives as it did not explode.
PET said it was too early to say if it was a case of terrorism, adding that it could also not be ruled out if the perpetrator had accomplices.
"Due to this, we have taken a number of measures to protect potential terror targets and to sharpen the police's attention regarding suspect situations," Aabye said.
The suspect, who remains in hospital care, appeared to be around 40 years old and spoke excellent English, Aabye added.
The hotel where the blast occurred has been evacuated, and the park remained sealed off Saturday as police continued searching for explosives and other evidence.
Author: David Levitz (AP/AFP/Reuters)
Editor: Ben Knight