"Rivers are for life, not for dams!" chanted protestors beneath an inflatable plastic dam erected on the steps of Marseilles central station at last week's World Water Forum.
Hydropower's potential to offer a clean, green alternative source of energy to fossil fuels is not universally accepted.
Increasingly, opponents are calling for a full account of dam's ecological impacts.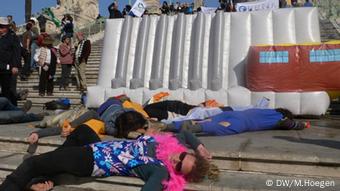 The World Water Forum in Marseille was the 6th to date
The Belo Monte project in Brazil is a case in point. The Brazilian plans to create one of the world's largest dams on the Xingu River would flood around 400 square kilometers of forest, killing flora and fauna and potentially releasing more methane than the project would save on fossil fuels for decades.
Dams also impact human communities, as many people, including farmers, must be resettled - even by force. Environmental organizations speak of up to 80 million dispossessed worldwide.
The newest attempts to make dams more environmentally friendly don't seem to be changing the opinion of their harshest critics. Take for example the "Hydropower Sustainability Assessment Protocol," which rates how environmentally friendly a hydropower project is.
The assessment, which came out last year, was a joint project of non-governmental organizations, governments, development banks and businesses. It assesses dam proposals according to more than 20 sustainability criteria, from water quality to public health to climate change and human rights.
Weak standards?
Rancon Monabay, a representative of the French environmental organization Ami des Terres, sees the protocol as an attempt to greenwash dams. The main problem, Monabay says, is weak standards. He's also critical of the fact that the companies themselves participate in administering the ratings.
"It's good that something is being done, but with the big picture in mind, it's completely inadequate to address this huge problem," Monabay said.
Richard M. Taylor, chief executive of the International Hydropower Association, sees things differently.
He says that while the protocol may have its weaknesses, he can't foresee any project receiving a perfect rating.
"It's got to be about looking at projects that perform poorly, and trying to improve them. It's not about getting a perfect result. That would be utopia," he said.
Staying in touch with reality
Critics insist the industry needs to lift its game.
They point to Turkey as an example: the Ilisu Dam on the Tigris in southeast Anatolia, upon which construction began in 2008, is among the most controversial of about 50,000 dams worldwide.
Several European backers pulled out of the project following protests in Germany, Switzerland, and elsewhere in Europe. Turkey, after a brief pause in construction, decided to go it alone against the will of the locals.
According to "Stop Ilisu", a group based in Austria, the dam would destroy some 400 kilometers (250 miles) of river area along the Tigris and its tributaries. More than 200 archeological finds would be inundated, among them Hasankeyf, a well-known ancient city.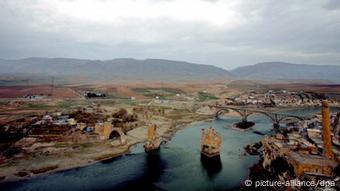 Hasankeyf, an important city from antiquity, would be inundated by Turkey's Ilisu Dam
About 100 species of fish would be placed in danger of extinction, while innumerable people would have to abandon their homes as settlements and valuable farmland would be flooded.
Ulrich Eichelmann, a representative of Stop Ilisu, described the proposal as "irresponsible gigantism." New, simplified sustainability criteria with a different rating process would help stop these kinds of projects, he said.
"A dam proposal would have to consider five social, and five environmental aspects," Eichelmann said.
First, dam builders would be required to ask whether there were alternatives to the dam. If there were none, the local population would also have to be consulted.
Instead, "construction is proceeding along the oldest of standards," Eichelmann said. "I would say, as the projects get ever larger, the standards used are worse than those from the 1990s."
Megadams in Africa
An example of "gigantism" would be in the Democratic Republic of Congo. In 1992, the hydropower facility Inga I was completed, with a 52-megawatt production capacity. The Inga II facility reached a capacity of 178 megawatts 10 years later.
Now, Inga III - which is set to deliver 3,500 megawatts - is under construction. By 2025, "Grand Inga" should be completed, with a planned capacity of 45,000 megawatts - making it the largest hydropower plant in the world.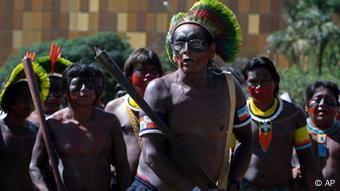 Indigenous Brazilians protest the Belo Monte dam, which has been gaining international attention
To Eichelmann, new but non-binding standards won't do any good in preventing such megaprojects. He thinks it's better to develop a master plan, which would designate certain important areas as off-limits for dams and hydropower facilities.
Sena Alouka, who runs the Togo environmental organization "Young Volunteers for the Environment," says that in Africa hydropower should no longer be considered a green remedy.
Pointing to the example of the Akosombo Dam in Ghana, he says dams haven't contributed much to economic development on the continent.
"There are communities in the vicinity of the dam that still don't have electricity. The Congo has the largest dam in all of Africa, yet is one of the countries where most people still live in the dark," Alouka said.
And if the citizens living in the region don't even see the benefits of an environmentally destructive hydropower project, it's high time to rethink the energy mix, Alouka says.
Author: Monika Hoegen / sad
Editor: Nathan Witkop