The Dalai Lama began his trip Saturday with a public talk in the northeastern Indian city of Guwahati in Assam state and is scheduled to visit the neighboring Arunachal Pradesh state on Tuesday. China claims the region in the eastern Himalayas as "South Tibet," therefore Chinese territory.
The spiritual leader of Tibetan Buddhists told media the purpose of his visit to these areas is to promote religious harmony.
However, Beijing expressed its anger over the Dalai Lama visit.
"India still invites the 14th Dalai Lama to visit disputed areas of China-India borders. This will gravely damage the peace and stability of the border regions between China and India and China-India relations," Chinese Foreign Ministry spokesman, Lu Kang, said during a press briefing on Friday.
But the Dalai Lama, whom Beijing considers a separatist, responded to the reporters' questions about Chinese warnings by saying, "Everything is normal."
China and India have been embroiled in a dispute concerning a 3,500-kilometer-long (2,175-mile-long) border, which led to a war in 1962. India says China occupies 38,000 square kilometers (14,600 square miles) of territory along the Aksai Chin plateau, while China claims parts of Arunachal Pradesh.
In October last year, when Beijing first protested the Dalai Lama's planned northeast India trip, Indian Foreign Ministry spokesman Vikas Swarup asserted that his country would not bar the Nobel Peace laureate from visiting the region.
"The Dalai Lama is a revered spiritual figure and an honored guest of India. He is absolutely free to travel to any part of the country," Swarup said.
"He has a sizeable following among the Buddhists in Arunachal Pradesh who would like to seek his blessings. He has visited the state in the past as well and we see nothing unusual if he visits again," he added.
Ties between Beijing and New Delhi are already tense with the former forging closer ties with India's arch-rival Pakistan.
Recalling the 1959 trip
The Dalai Lama last visited Arunachal Pradesh in 2009. China opposed that trip too, but there was no major impact of the visit on the Sino-Indian ties.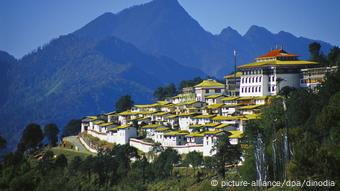 Arunachal Pradesh has one of the largest centers of Tibetan Buddhism in Tawang
The Dalai Lama, who won the 1989 Nobel peace prize, sought refuge in India in the early 1950s, after Chinese troops "liberated" Tibet. The Tibetan government in exile operates from Dharamsala in the northern Indian state of Himachal Pradesh.
"Whenever I come to the northeast of India, it feels like a reunion with people here," the Dalai Lama said Saturday. "When I revisit the Tawang area, I am reminded of the freedom that I had experienced for the first time (in 1959). That was the beginning of a new chapter in my life."
Buddhist-majority Arunachal Pradesh has one of the largest centers of Tibetan Buddhism in Tawang, where the Dalai Lama is scheduled to address Buddhist devotees from Wednesday to Friday.
shs/rc (dpa, Reuters, AP)