The Czech presidency of the European Union on Wednesday, Jan. 29, backed Ukraine's ambitions to join the 27-member bloc, despite Kiev's gas row with Moscow that led to a two-week shutdown of EU-bound Russian natural gas deliveries via Ukraine.
Speaking after meeting the Polish and Ukrainian presidents in the Polish city of Wroclaw, Czech Prime Minister Mirek Topolanek said he would persuade EU leaders that Ukraine's integration into the EU and NATO was "in the fundamental interest" of the bloc.
"Ukraine's course towards Europe is not only in the EU's interest...but Ukrainians also have the same right to decide as we once had," said Topolanek, whose country joined the EU in 2004 and NATO in 1999.
Czech leaders, whose country chairs the EU until June 30, had previously slammed both Ukraine and Russia for breaching supply and transit obligations to their European clients. Topolanek said earlier that both countries damaged their credibility amid the gas row.
Repairing a reputation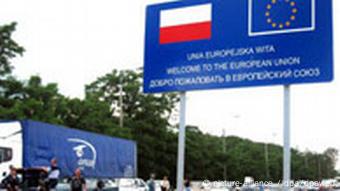 Kiev hopes that one day a sign like this will stand on their border with Russia
Ukrainian President Viktor Yushchenko meanwhile arrived in Poland in a bid to fix Kiev's reputation tarnished amid the protracted gas dispute that left thousands in Eastern Europe without heat in the depth of winter.
The EU depends on Russia for a quarter of its gas needs, 80 percent of which arrive via Ukraine.
Yushchenko proclaimed that no Ukrainian politician would hamper gas transit to Europe.
"If somebody told you that Ukraine committed (the shutdown), remember that is is...a great lie," he said through an interpreter.
His Polish counterpart Lech Kaczynski told reporters after the meeting that Yushchenko repeatedly "confirmed" Kiev's pro-Western course.
Yushchenko reiterated that Ukraine would honor the new supply and transit deal with Russia that allowed for re-opening of the gas taps on Jan. 20, despite considering the purchase and transit prices disadvantageous for Kiev.