Open 24 hours a day and seven days a week, Macau's 35 casinos entertain around 30 million visitors each year, making over 30 billion euros in revenue. These are figures which make the US gambling city of Las Vegas look like a desert village. It's too bad then, that profits in Macau are suffering dramatically – and it is mainly due to the Chinese government's fight against corruption.
"Since the People's Republic launched its anti-corruption campaign, the casinos have been facing big problems," explains sociologist Larry So from the Macau Polytechnic Institute. "Business is declining because high-ranking officials and the rich do not dare come here to play." Macau is the only place in China where gambling is officially permitted. Until the end of 1999, the peninsula was a Portuguese colony. Since it was handed back to China, the city of 600,000 people located at the mouth of the Pearl River has been a largely autonomous Special Administrative Region (SAR).
Side-effects
China's expanding economy had enabled more and more wealthy people to come and play in Macau. This was the case at least until President Xi Jinping sounded the horn in his hunt for corrupt party members and businessmen shortly after he became president in 2013 - a campaign likely launched to get unwelcome competitors out of the way, adds So.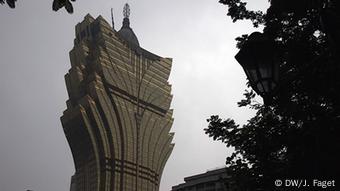 The 'Grand Lisboa Casino' in Macau
So when the anti-corruption drive led to long-term jail time and even death sentences for high-ranking officials, difficult times set in for Macau. Mainland Chinese who played for high stakes in casinos became increasingly afraid of being asked where their money came from.
Ironically, in recent years, Macau has done much to remove itself from the muck of gambling and crime. Once notorious gambling pits have now become luxury resorts – featuring everything from luxury suites to brand-name boutiques and even internationally renowned restaurants.
Vice in VIP rooms
Take the "Venetian" for example. Even the famous St. Mark's bell tower was recreated for the Chinese alongside Venetian-styled confectioner shops. There is a St. Mark's Square shopping center, a Rialto Bridge, and original Italian gondoliers who sing on the Grand Canal.
Naturally, everything is covered with a roof and fully air-conditioned, says Ciaran Carruthers, director of the "Venetian." "The sky is always blue, the sun always shines. In our Venice, it never rains. We offer Chinese people, who would never have the chance to travel to Europe, a taste of the beauty of old Europe and old Venice."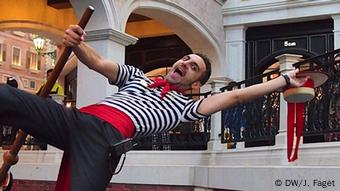 The 'Venetian' has original Italian gondoliers who sing on the Grand Canal
Given that business was running well until recently, construction of a sister resort is already underway. It is called the "Parisian" and should, as the name says, bring Parisian charm and elegance to Macau by the end of the year.
But even if the casino manager may not want to admit it, most of the resort's money is earned through gambling. For instance, the resort offers VIP areas - luxuriously set-up private game rooms in casinos - ordinary players are not allowed.
Behind those closed doors, there is talk of prostitution as well as money laundering. High-ranking party officials who wish to remain anonymous play with suspiciously acquired fortunes on the gambling tables.
It is especially in these VIP areas where casino revenues have sharply fallen since Beijing's anti-corruption campaign landed in Macau and called for more transparency in luxury gambling. This development is confirmed by sociologist So: "The VIP rooms which were set up for the rich, high dignitaries, and also corrupt officials are often either empty or receive fewer visitors."
Recovery possible?
At the end of 2014, gambling revenues declined by one third and the market value of the casinos fell by around 90 billion euros. This made the government of Macau rightfully nervous, said So. On the other hand, the authorities also bear much of the responsibility given that gambling has had such a big impact in Macau's economic development since its return to China some 15 years ago.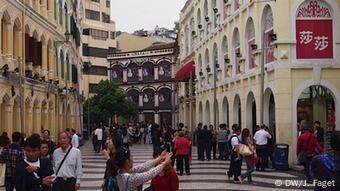 Macau's 35 casinos entertain around 30 million visitors each year
Beijing has urged the region's government to expand its economic basis, said Gary Ngai, the former Culture Minister. He now leads a think tank that wants to make Macau a hub between China and resource-rich Portuguese-speaking countries such as Angola and Brazil. But the project has had only moderate success until now.
Macau has always taken the easiest way, said So. That's why the anti-corruption campaign has hit the city especially hard. According to So, the end is not yet in sight: "This campaign is likely to last a while longer - until the sympathizers of the former Chinese government are removed from every position of power." Only then will the super-rich come back to gamble in Macau, the sociology professor forecast.