Cricket is one of the best-loved sports in South Asia - and the India-Pakistan cricket rivalry is one of the most intense of its kind in the world. A match between the two teams can attract up to a billion viewers. It is said that the enthusiasm and excitement over a Pakistan-India pairing even surpasses the passion traditionally whipped up when England plays against Australia in the Ashes series.
That said, there have been long stretches without or with only very few matches played between the two countries due to the ongoing political antagonism. India and Pakistan have fought three wars, and border skirmishes in the Kashmir region are a regular problem. Most recently, India has blamed Pakistan for the attack on the Pathankot airbase in January which left seven Indian soldiers and six militants dead.
Boosting overall relations
Ahead of the T20 World cup, there were protests in some parts of India and the security of the cricket team became a concern for Pakistan. However, the issue was resolved after the Indian government agreed to provide security to the Pakistani team.
In an exclusive interview with DW, Pakistan's High Commissioner to India, Abdul Basit, said, "The people of Pakistan and India want more and more sporting ties. We hope politics can be set aside from cricket and other sports. Pakistan is participating in the T20 World Cup after we were given unequivocal assurances by the Indian government."
Shashi Tharoor, an Indian parliamentarian and advocate for better bilateral relations, said in a recent BBC editorial that more cricket series should be played between the two countries. He said that the game had become a victim of politics, witness the 18-year gap in cricketing relations between the two countries from 1960 to 1978, the 12-year hiatus in Pakistani Test tours of India between 1987 and 1999, and the current stalemate brought about by the 2008 Mumbai attacks and sustained by subsequent incidents.
Since the Mumbai attacks in 2008, when terrorists setting out from Pakistan went on a killing spree in a luxury hotel and adjacent facilities that left more than 170 people dead, the two countries have hardly played each other and Pakistani players have not participated in subsequent editions of the Indian Premier League (IPL).
"There is nothing like cricket which bonds the people of two countries. Pakistani players are popular in India and many Pakistanis are fans of Indian players. Both teams should play more and more cricket and people in power in both countries should work together to achieve this cause," Younis Khan, the former Pakistani cricket captain, told DW.
Hope springs eternal
Shakeel Shaikh, a member of the Pakistan Cricket Board, told DW that it had been a while that any type of cricket series had been played between the two rivals. "It is really good news that Pakistan is participating in the T20 World Cup in India, it will create good will among the cricket boards of the two countries."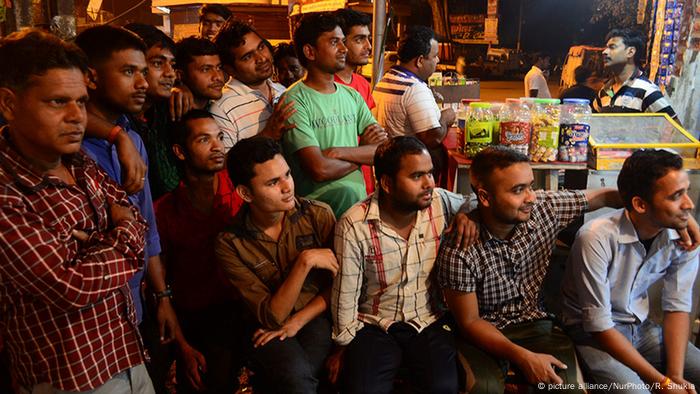 Just a few of up to a billion spectators
Although both countries have signed a memorandum of understanding to play more cricket series, its implementation has been weak.
Mutaja Kirmani, a former Indian cricketer, is skeptical that bilateral relations can improve with more cricket matches between Pakistan and India: "The India and Pakistan cricket match is watched not only by people in these countries but cricket lovers all over the world. More matches should take place, but we have seen diplomatic relations hardly improve," he told DW.