The timing couldn't have been better. On the evening of Sunday, April 24, when all of Serbia was transfixed by the first results of the parliamentary elections flashing on their TV screens, around 30 mysterious masked men armed with baseball bats and three excavators blocked a street in Belgrade's nightlife district of Savamala, detaining passers-by and curious onlookers with threats and confiscating their cell phones.
Their machines roared through the night, yet neither the noise nor complaints to the nearby police station seemed to have any effect. At dawn, only ruins and debris remained of several buildings that had contained businesses and a restaurant - and this, in the heart of the Serbian capital.
'Phantoms of Savamala'
"The police told me they were not responsible. After I insisted, they admitted that they had orders not to intervene," said Vladimir Miljevic, the manager of a company whose headquarters were destroyed that night.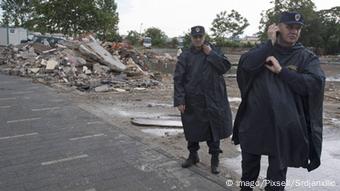 Police showed up only once the deed had been done
Miljevic tried calling another police station, the local building supervisory authorities and Belgrade's mayor and city council - to no avail. Phone call after phone call, he received the same response: the authorities weren't responsible, and they had no idea who was behind the destruction.
Serbia's mass media outlets have since been silent; only social networks and some independent news sites and weekly papers have covered the story of the "phantoms of Savamala." In a report published last week, Serbian Ombudsman Sasa Jankovic - a thorn in the side of the conservative government - lay the blame for the destruction on an organized crime group, and said the state was complicit.
A legal vacuum, with an arbitrary enforcement of laws, has been growing in Serbia, claims Bozo Prelevic, a lawyer and former interior minister. Like many other critics, he thinks people in positions of power have organized the criminal groups, or at least tolerate their actions.
"No one else would have the nerve to tear down such buildings in middle of the night without government and police backing and the knowledge that they would not interfere," Prelevic told DW.
Several days passed before someone in a position of authority decided to comment on the destruction. When he did address the public, Prime Minister Aleksandar Vucic tried to play down the events and asked people to patiently await the results of an investigation. He failed to mention, however, that a municipal company had cleared the debris before police were able to gather evidence.
Vucic offered up a vague clue as to who might be responsible for the demolition, saying only "a complete idiot" could have demolished the "illegally" built properties in the middle of the night. He insisted that, however, that the work could have been carried out legally during the day, as the buildings had been scheduled for demolition.
This, apparently, wasn't exactly true either: since then, many business owners in the Savamala district have presented their official property permits - not that these have helped matters.
Making room for investors?
For the last few weeks, the public has been speculating as to the identity of these "complete idiots" and their employers. Many have linked the nocturnal operation to a controversial redevelopment project known as "Belgrade Waterfront," a new high-tech complex with upscale office buildings, luxury apartments and shopping centers, planned for the coveted property on the right bank of the Sava River.
The creation of an Abu Dhabi-based developer, "Belgrade Waterfront" is a prestige project for the ruling Serbian Progressive Party and its head, Vucic - an erstwhile nationalist who has since become an enthusiastic European who will do anything to create a good investor climate.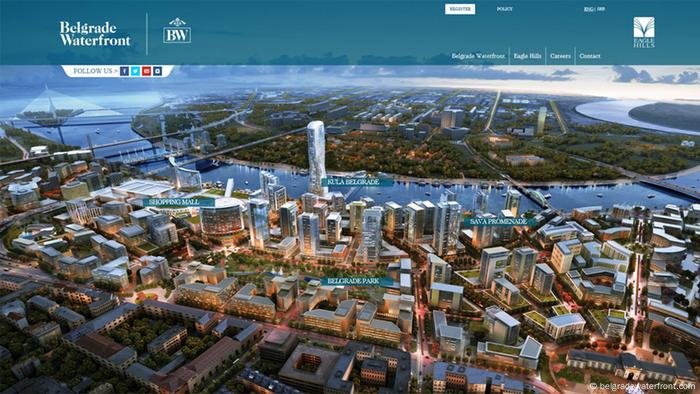 "Belgrade Waterfront" will offer upscale office buildings, luxury apartments and shopping centers
It remains unclear how much money the project's investors are willing to put into the scheme, the exact timeline for construction or the final shape of the complex. Nonetheless, the plot of land has now been diligently cleared, as contractually agreed by the government.
If the covert operation on April 24 was part of that deal, then a "dangerous precedent" has been set, said Predrag Petrovic of Belgrade's NGO Belgrade Centre for Security Policy (BCSP).
"Here, we are presented with what perhaps lies in our future: Someone can seize private property that belongs to Serbian citizens and destroy buildings just because a plot of land is needed. And all that can happen without any consequences," Petrovic told DW. He believes the government and its loyal media are trying to play down the incident and cover it up.
Right from the start, the citizens' initiative "Ne da(vi)mo Beograd," which means both "Don't drown Belgrade" and "We won't give Belgrade away," has been voicing its disapproval of what it feels is a megalomaniac project. The "phantoms of Savamala" prompted the group to organize a recent protest which drew 5,000 people, and opposition parties are planning further demonstrations for next Monday.
But according to Bozo Prelevic, these acts of resistance probably won't achieve much. "Under these political conditions, citizens only have two options: to become members of the ruling party or to emigrate. Wherever there are people above the law, there is no more state.
"Many people seem to like [Vucic's] governing style, but I think international investors and the European Union have a different opinion," added Prelevic, referring to the absolute majority that the ruling Serbian Progressive Party sustained in the late April elections. "Something like this does not exist in a reasonably organized state."