On Monday, US Secretary of State Mike Pompeo gave a speech in which he said that the US will "crush" Iran by the means of economic sanctions and military pressure. The Trump administration's new policy on Iran comes just weeks after the US withdrew from the Iran nuclear deal. Pompeo said that the US is now intent on restraining Iran's influence in the Middle East and ensuring that Tehran is never able to develop nuclear weapons. But many political analysts and pundits in Washington say the new policy amounts to one of regime change.
Some Arab countries will likely welcome this new tougher US policy. Saudi Arabia, Iran's arch-rival in the region, has openly called the Iranian regime a member of the "axis of evil" in the past. Saudi Arabia, along with Qatar, Bahrain, Kuwait and Oman, is a member of the Gulf Cooperation Council (GCC), which may also back Washington's policy to isolate Iran. Earlier this month, GCC Secretary General Abdullatif al-Zayani said that Iran should have to meet certain requirements such as "the completion of the nuclear file in terms of inspection, not providing terrorists with ballistic missiles, respecting UN Security Council resolutions and non-interference in neighboring countries."
Dr. Mohamad Ezz al-Arab, a political expert at the Al-Ahram Center for Strategic Studies in Cairo added that elites in Gulf nations such as Saudi Arabia, the United Arab Emirates and Bahrain view Iranian influence to be "very dangerous" for their security due to Iran's support for militias such as Hezbollah in Lebanon and Syria or the Houthis in Yemen. Speaking to DW, he also noted that the US role in the region is to bolster Israel's security and support governments of countries such as Saudi Arabia that align with US interests.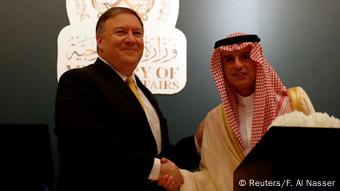 Saudi Arabian Foreign Minister Adel al-Jubeir meets with US Secretary of State Mike Pompeo
The US as new regional police?
But Iranian political analyst and former diplomat Said Hadi Afaqhi told DW that countries which support the new US policy on Iran could face negative repercussions. "The American desire to change the balance of the region runs contrary to the interests of Russia and Arab countries," he said. Greater US intervention in the case of Iran could mean that the US is becoming more of watchdog in the Middle East. If Arab countries refuse to act in a way that the US wants and step out of line with American policy, they too could face economic sanctions or isolation from the American administration. He warned that Arab countries should refrain from "applauding" Trumps hardline policy towards the Islamic Republic.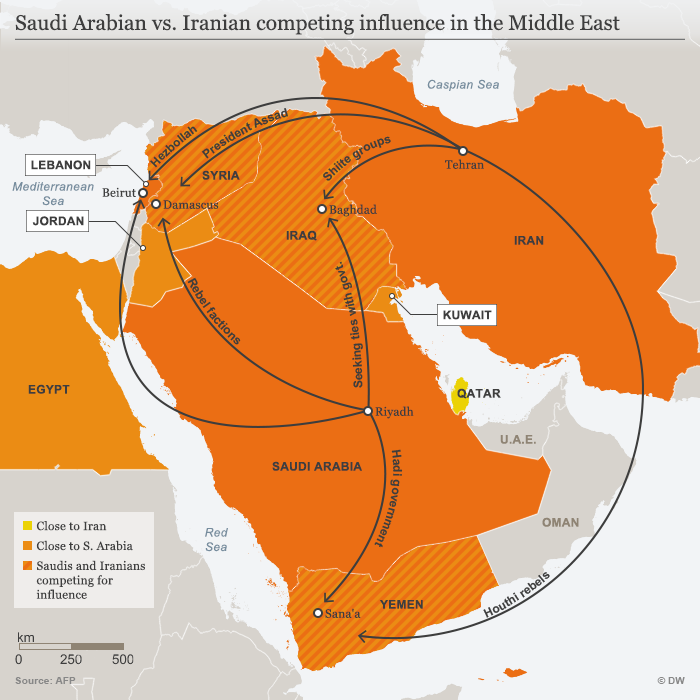 Saudi Arabia and Iran are in a power struggle and use proxies to push their interests in the Middle East.
Afaqhi also argued that Iran does not intervene in the conflicts of Arab countries without the permission of the governments in those countries. "It is not for America to determine what Iran should or should not do. Iran has entered Syria and Iraq at the invitation of the government officials there," he said. He also said that Iran's dispute with Saudi Arabia and other Gulf States is a matter for those countries to decide – not the US. "In regards to the nuclear agreement, Iran was able to reach an understanding with the US, EU and other great powers, so why is Iran seen as not being able to deal with its neighbors?" he argued.
What future for Iran?
One Middle Eastern country that is sure to take Iran's side in the face of this new hardline policy from the US is Syria, as the Iranian government financially backs the Assad regime in Damascus. And Holly Dagres, an Iran analyst and curator of The Iranist newsletter, says past experience shows that Iran's influence in the region is unlikely to dwindle, despite the renewed sanctions and American pressure. "We have have to remember that when the Syrian uprising started and Iran intervened on the behalf of Bashar Assad's government, the country was under the worst sanctions in its history, which were implemented by the Obama administration, " she told DW.
If anything, Dagres believes that the Iranians will continue to pursue their political agenda in the region, in spite of renewed American pressure. "After decades of international isolation, Iran has managed to circumvent sanctions in numerous ways, whether by working the middleman, the black market, or trading with countries that the American sanctions enforcement agency OFAC cannot reach. If Iran wants something to be done, it will find a way," Dagres concluded.
Every evening at 1830 UTC, DW's editors send out a selection of the day's hard news and quality feature journalism. You can sign up to receive it directly here.