German Health Minister Jens Spahn has warned against a premature approval of coronavirus vaccines. Rapid approvals are "irresponsible" because such vaccines are intended to treat millions of people, he told the magazine Focus on Friday. "Safety must have top priority."
Spahn's comments coincided with reports from Russia that more than 1 billion people could receive its COVID-19 vaccine Sputnik-V in 2020-2021.
The Interfax news agency said the country's sovereign wealth fund has already signed two deals to export the vaccine abroad.
Moscow has been labeled unethical and reckless for approving the vaccine last month despite not having finished full tests.
On Wednesday, final clinical trials for a vaccine, developed by pharmaceutical AstraZeneca and the UK's Oxford University, were halted after a participant had a likely adverse reaction.
Read more: SARS-CoV-2 vaccination: What are we actually waiting for?
Around the world
The global death toll stands at over 909,000 with over 28 million confirmed cases. The United States, Brazil and India remain the three worst-hit countries in the world.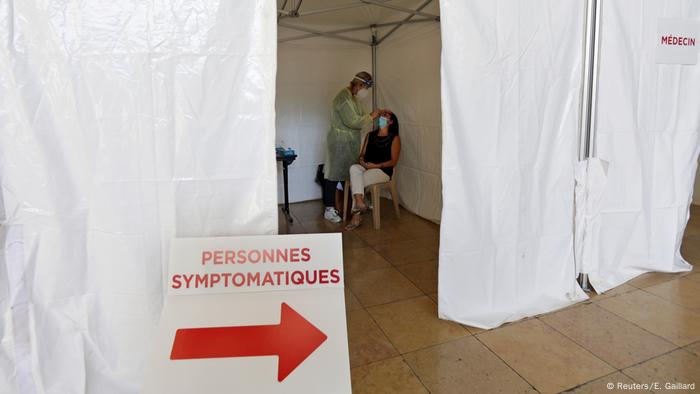 France has upped testing as medical staff fear further overburdening of hospitals
Europe
Switzerland has added the regions around Paris and Vienna to its list of areas with high COVID-19 infection rates requiring incoming travelers to enter quarantine for 10 days.
The English city of Birmingham ordered the public to stop socializing with those outside their household, to try to tackle a sharp spike in cases. The new restriction comes into effect on Tuesday.
The first European pandemic "travel bubble," created in May by Estonia, Latvia and Lithuania, burst on Friday, as Latvia said it was mandating a 14-day quarantine on everyone arriving from Estonia.
Hungary announced it will not reintroduce school closures, or many other restrictions despite seeing a rise in cases.
"The goal now is not for everyone to stay at home, and for the country to come to a standstill. The goal is to protect the ability of the country to keep operating," Prime Minister Orban said.
In Germany, the new daily number of confirmed coronavirus cases increased by 1,484 to 256,850.
Read more: Traveling to Germany: Coronavirus restrictions — questions and answers
Americas
The United States has marked the anniversary of the 9/11 terror attacks in New York in a subdued fashion because of the pandemic. Victims' families were not be allowed to attend the official ceremony because of limits on public gatherings.
President Donald Trump addressed a ceremony at the Flight 93 National Memorial near Shanksville, Pennsylvania.
Read more: Germany: Coronavirus exposes meat workers' plight
The pandemic has taken a harsh toll on the mental health of young Americans, according to a new poll.
A majority (56%) of 18-34-year-olds say they have at least sometimes felt isolated in the past month, compared with about 4 in 10 older Americans, the latest COVID Response Tracking Study conducted by NORC at the University of Chicago found.
The coronavirus tally passed the 8 million mark in Latin America, making it the most badly affected region in the world.
On Friday, the Brazilian state of Bahia agreed to conduct Phase III clinical trials of Russia's vaccine "Sputnik-V."
Read more: After 9/11: Has Germany failed in Afghanistan?
Asia and Oceania
Australia has extended its financial support to Papua New Guinea in response to the island's struggling economy, caused in large part by the pandemic.
India has also seen a further spike in cases, with almost 100,000 infections recorded in one day, taking the overall tally to 4.56 million. A new antibody test has indicated that over 6 million Indians may have had the disease in May alone, a far higher figure that current figures suggest.
After seeing a spike in cases in August, South Korea has continued its downward trajectory with 200 cases recorded on Friday. Authorities have indicated they may once more loosen social distancing restrictions.
Africa
Nearly 100 Senegalese soldiers tested positive this week after returning home from a deployment in neighboring Gambia, a military source told Reuters news agency.
Catch up with yesterday's digest here: Coronavirus digest: Germany announces new travel warnings for European regions
mm, ed/sms (AP, AFP, dpa, Reuters)