A wave of sexual assaults in the northern Indian state of Haryana has shocked many people across the country. In the last month alone, more than a dozen women - mostly from the minority Dalit group – were raped, raising concerns about the security of women in India.
According to a report by India's National Crime Record Bureau, 228,650 incidents of violence against women were reported in the year 2011, out of which 24, 270 were rape cases. Between January and August, 455 rape cases were reported in Haryana. Rights groups say that the number could well be higher since many rape cases go unreported in India.
Recently, Sonia Gandhi, the president of India's ruling Congress Party, promised that the government would bring the culprits to justice. However, many Indians have criticized the government for ignoring the issue.
A conspiracy?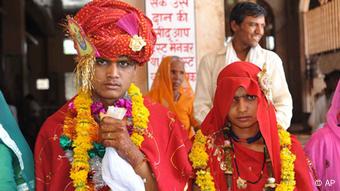 Early marriages are common in India
Although the majority of Indians have condemned the increase in sexual assault cases, there are some who have chosen to blame the victims.
On Tuesday, Jitender Chhatar, a local caste council leader, said that eating stir-fried Chinese noodles could create hormonal imbalances in men, evoking an urge in them to indulge in acts such as rape.
Mamta Banerjee, Chief Minister of the state of West Bengal, said the "liberated relations between men and women" were a factor behind the increasing number of rapes in India.
Another caste council leader Sube Singh suggested that "young girls should be married off early to avoid getting raped." He said that the Indian government should lower the "marriage age" for girls from 18 years to 16 years. His demand was rejected by most politicians but Om Prakash Chautala, the former chief minister of Haryana, endorsed it.
Haryana's education minister Geeta Bhukkal took the the view that the whole thing was "a conspiracy to discredit the state government."
As if all this was not enough, Congress Party leader Dharamvir Goyat claimed that "90 percent of the rape cases are consensual."
Shameless
But many Indians have strongly criticized the people who are condoning the rape cases.
"It looks like the caste councils are running short of ideas to explain the rise in the number of rape cases in the state," wrote Gayatri Sankar in her blog. "I really wonder how these people can shamelessly come up with such preposterous statements!"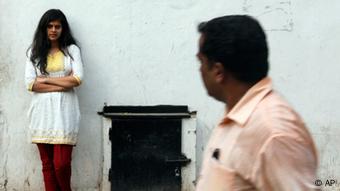 Women are usually seen as an object of sexual desire
Indian activists say that such remarks by powerful politicians only show how helpless they are in putting a check on crimes against women.
Banerjee's criticism about the media "glorifying incidents of rape" was slammed by member of her own party, Kabir Suman.
"I feel that the leaders, including people like me, are responsible for creating a situation where atrocities against women have become common," said Suman. "Instead of justifying these incidents, we must ponder why they are happening."
Haryana's former finance minister, Sampat Singh, said that people who were justifying rape cases "lack maturity."
'The most dangerous country for women'
India's National Commission for Protection of Child Rights (NCPCR) has termed a spate of reported gang-rapes as "alarming" and demanded that exemplary punishment be meted out to the perpetrators.
"We are demanding that the state government take up the issue of security for women in a serious manner," NCPCR chairwoman Shanta Sinha told DW. "[Haryana] state has one of the worst ratios [of women to men] in the country and there is an urgent need for a public awareness campaign in favor of girls," she said. According to India's 2011 national census, the sex ratio in Haryana is 83 girls to 100 boys. The global gender ratio is approximately 100 girls to 101 boys.
According to a survey conducted by Thomson Reuters' Trustlaw Women earlier this year, India is the most precarious country for women among the G20 group of leading industrial nations because of child marriage, feticide and infanticide, sexual trafficking, domestic slave labor, domestic violence and high maternal mortality.