A hijacked truck stormed down a busy street in Stockholm Friday afternoon, killing at least four people and leaving 15 injured. There have been two arrests in relation to the suspected terrorist attack and the truck involved has been cleared from the now eerily quiet street.
The first arrest was carried out late Friday and the second in the early hours of Saturday. The second suspect was being held on the strongest "suspicion of a terrorist crime through murder," said Swedish Prosecution Authority communications director Karin Rosander. Sweden's legal system distinguishes several degrees of suspicion in such cases.
Condolences from locals and abroad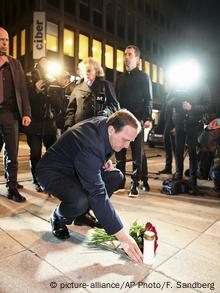 PM Stefan Lofven leaves flowers and a candle near the crime scene
People in Stockholm left flowers and candles at the site following Friday's events. Swedish Prime Minister Stefan Lofven described it as a "horrific attack" in a written statement. Lofven told the press "we are determined never to let the values we treasure be undermined by hatred."
UN Secretary General Antonio Guterres condemned the attack. "We hope that those responsible for the attack will be swiftly brought to justice," said Guterres.
Jean-Claude Juncker took to Twitter to say "we stand in solidarity with the people of #Sweden. An attack on any of our Member states is an attack on us all."
German Foreign Minister Sigmar Gabriel used Swedish to say, "Sweden, we are thinking about you!" in a joint statement with French Foreign Minister Jean-Marc Ayrault.
Paris mayor Anne Hidalgo announced the iconic Eiffel Tower would go dark as a tribute to the victims of Friday's attack. Paris was hit by two major terrorist attacks in 2015.
Sweden's King Carl XVI Gustaf said in a brief statement that the royal family had noted the attack "with dismay" and sent condolences to the families of the victims and injured. "We follow developments but as of now our thoughts go to the victims and their families," he said.
German Chancellor Angela Merkel's spokesman said her government's "thoughts are with the people in Stockholm, the injured, the relatives, first responders and police."
kbd/kl (AFP, dpa, Reuters)