Forensic scientists have started to exhume dozens of bodies in connection with the "false positives" military scandal, Colombian officials said on Saturday.
"False positives" are civilians who were killed by Colombian soldiers and later presented as guerrillas. They were falsely identified as combatants so that soldiers could gain military decorations, promotions and other benefits.
"It is presumed that the remains of more than 50 people illegitimately presented as combatant casualties are in the cemetery of Dabeiba," said the Special Jurisdiction for Peace (JEP). It noted that the exhumation process began earlier in the week.
The JEP was established as part of a peace accord between the Colombian government and the Revolutionary Armed Forces of Colombia (FARC) that formally ended half a century of conflict in the South American country. Its mandate is to probe atrocities committed during the conflict.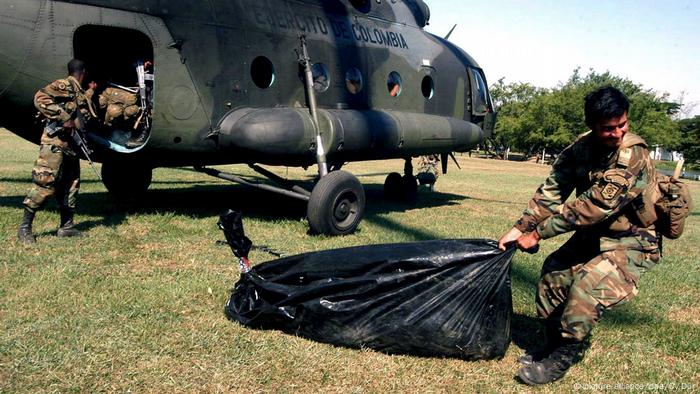 The 'false positives' occurred during a brutal conflict between the military, paramilitary forces and leftist guerillas that spanned half a century (photo from 2005)
Bloody conflict
The JEP said an ex-army member had voluntarily indicated knowledge of "false positives" victims in the Dabeiba cemetery, which it then contrasted with other evidence.
Initial assessments indicate that the victims were men between the ages of 15 and 56. "Among those are people with disabilities," the JEP said.
In some cases, the military lured poor victims with promises of jobs in a fake recruitment process. The civilians were then transported to conflict areas, where they were killed, dressed in guerilla-style clothing and presented as combatants.
Read more: Colombia's shattered hopes of peace
More than 150 military officers have provided testimony about "false positives" to the JEP, with some cases dating as far back as 1988 and as recently as 2014.
According to Colombian prosecutors, roughly 5,000 cases involving "false positives" have been attributed to the armed forces. However, only low-ranking soldiers have been convicted.
"None of these crimes were ever investigated by the ordinary justice system," the JEP said.
The Dabeiba cemetery, where the exhumations are underway, is located in the administrative region of Antioquia, in Colombia's northwest.
Read more: Colombia struggles with the demons of peace
Every evening, DW's editors send out a selection of the day's hard news and quality feature journalism. You can sign up to receive it directly here.
ls/cmb (AP, EFE)