It is official. Cologne called a climate emergency on Tuesday, after resounding pressure from the Fridays for Future group.
"We are unstoppable, another world is possible," one slogan goes. The climate change protest movement Fridays for Future moved on Monday to a #WeekForFuture, which increased already mounting pressure on the Cologne parliament to pass a climate emergency. Demonstrators will be protesting day and night until Friday, taking shifts to sit on Cologne's Altmarkt (Old Market) during the night hours.
"I just came from school," one 16-year-old says, as shouts of "Climate protection is no crime" ring out across the square. "People come when they can to protest this really important issue." He was one of around 50 demonstrators present on Tuesday. Around that number will stay every night of the week, according to organizers, and hundreds are expected on Friday, the final day of #WeekForFuture.
The Cologne parliament voted overwhelmingly on Tuesday evening for the emergency declaration. Seventy-three of the 85 councilors present were in favor of it, in a debate that stretched through the day into the night. Protestors had marched on the parliament from the Altmarkt to call for Cologne to follow 700 world cities including London, Paris, and Düsseldorf in taking a stand. It's the latest in a series of protests launched by Greta Thunberg, the sharp 16-year-old from Sweden who began demanding a global response to climate change in 2018.
Cologne's Altmarkt, long used for protests, is decked out in tents. Red, orange and green tents, with a plush black sofa straddling the center of the square.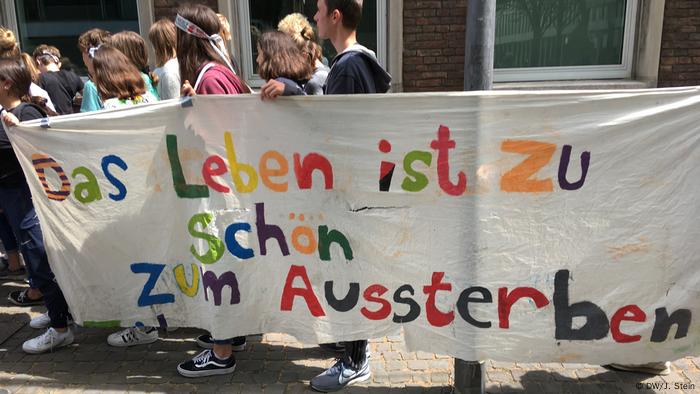 "Life is too good for us to die out." Some demonstrators attended the debate in the Town Hall on calling a climate emergency
There is optimism here. "We had been forced to go to the next stage in our strikes," Leonie, one of the demonstration's organizers, 22, said on Tuesday. "We have campaigned for six months on this issue, on Fridays, but nothing has changed. We want to make it clear to politicians that they have to negotiate, and they have to negotiate now." Some politicians have called for the demonstrators to return to school as the term still goes until Friday. "The definition of a strike is exactly that, that we don't go to work or go to school, what we do has to have an effect," Leonie said. The government of the state of North-Rhine Westphalia, of which Cologne is part, had warned on Monday that students could face fines of up to €150 ($170) for missing school.
Protesting since the '70s
But it's not only students who are present at the demo. Luise Jäger is part of the "Grannies for Future" movement. Grinning and gripping a huge banner ("We are just outraged, that you don't listen to our grandchildren"), she said something had to change. "It's not enough anymore for individuals to adopt a sustainable lifestyle — we've been doing that since the '70s. Some things have to change at parliament level now."
The Stevie Wonder classic "I Just Called to Say I Love You" drifts through the square. Demonstrators sit together in small groups chatting, or stand juggling in a corner. Open mic sessions and discussions take place throughout the day, and will continue during the week. It's a relaxed and open atmosphere.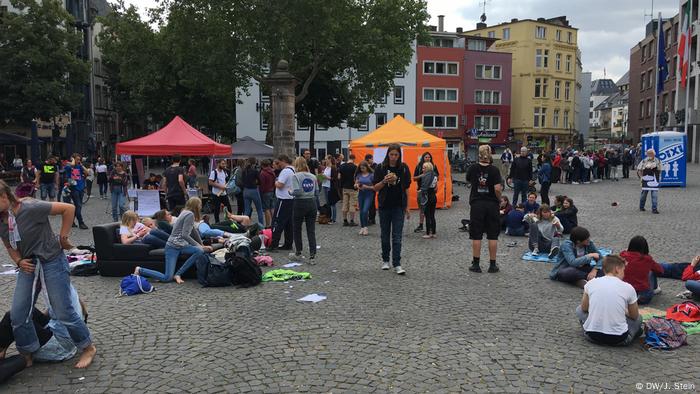 The demonstrators set up tents across Cologne's Altmarkt for the weeklong demonstration
Over at the Cologne parliament, councilors are about to debate the call for a climate emergency. Some protesters stage a die-in outside, before they are let in to attend the debate.
Read more: Climate emergency: New hope, or just empty words?
A few protestors mingle outside as the debate goes on. Kathrin, a member of the "Parents For Future" climate movement, has come with her baby, Elena. She says she is there because she hopes Elena will "be able to have the same quality of life as I had, and hope to still have."
"But it is probably too late," she adds. "In 10 or 20 years there could already be a huge difference in the way in which we live."
Students at the demonstration would miss a week of school if they attend the demonstration until Friday. But Kathrin supports them nonetheless. "In 10 or 20 years there will not be a future. Or at least not a recognizable future, if we don't take big steps immediately," she says.
"Why go to school when you have no future?"