Smugglers are currently offering to take people a short distance to the Hungarian or Croatian border, a service that costs between 200 and 300 euros ($214-321). They've also got wire cutters for the Hungarian border fence. Hundreds of people a day try to leave Serbia in this way, desperate to make it onto EU soil. Most of them are immediately picked up by police. Many are robbed, humiliated or beaten before being sent back to Serbia, according to the dozens of refugees DW reporters have spoken with in recent days.
Shirsad Safi is waiting for a warm meal in Belgrade's "Info-Park" refugee center. The 17-year-old Afghan tells the story of his short trip to Hungary. "When we were picked up, the police forced us to sit barefoot in the snow for six hours. There were children in my group. They poured cold water on us." He shows us the holes in his pants and the wounds on his legs - courtesy of the police dog, he says.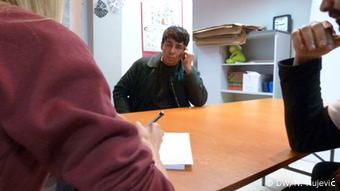 Shirsad Safi met with members of the 'Info-Park' NGO
'European record holder'
Just a hundred meters away in a park opposite Belgrade's train station, the people smugglers await customers like Shirsad. This is the departure point for buses and trains, and more than 1,000 migrants are living rough in an old warehouse behind the station.
But Serbia's Interior Minister Nebojsa Stefanovic tells a different story. He says that in the last two or three years, his country has arrested more than 2,000 people suspected of working as smugglers. "The statistics show that Serbia is actually the European record holder in this regard," the minister said, praising the work of the authorities. But arrested doesn't mean incarcerated, not to mention sentenced. Most of the people smugglers are set free again after a short time.
"They're just arresting drivers, helpers, cogs in the machinery of the smuggler gangs," said Gordan Paunovic, head of "Info-Park." He deals with hundreds of refugees seeking help after being cheated or blackmailed by smugglers. That is also reflected in the statistics. The police and the UNHCR say that around 200 migrants cross over the border from Bulgaria each day. But the number of migrants in Serbia has for months been stable at between 7,000 and 8,000, which means that despite all the obstacles, many continue to leave the country and reach Western Europe. For that, they either need a lot of luck, or a smuggler with good contacts.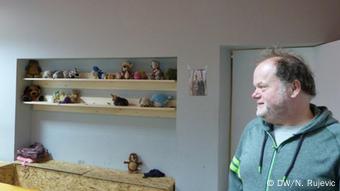 Government critic Paunovic helps refugees
No more all-inclusive deals
You don't need to wait long in Belgrade until you see them. They look Pakistani or Afghan, like most of the migrants. But they're wearing warm, clean clothes and solid shoes, and have a mobile phone pressed to each ear. Some are driving cars. They stop to talk to the migrants, to spread the word of their services. A young man in the park says he was just offered transport to Austria in exchange for 2,000 euros.
"In recent months we've seen more and more migrants beginning to work themselves as smugglers," says Paunovic. "It's all happening outside the big networks. There's hardly anyone who, for example, pays 10,000 euros for an all-inclusive journey to Frankfurt. Now there are young men who are mixing in with the refugees to look for customers. They're cheaper."
The tricks that the smugglers use are like the ones employed by magicians - once they've been seen through, they're unusable. Trucks are subject to tight checks at border crossings - including tanker trucks. Recently, Hungarian police discovered migrants hiding in a shipment of oil. On the other hand, there are still rumors - though unconfirmed – that some smugglers are working with corrupt police officers along the Balkan route.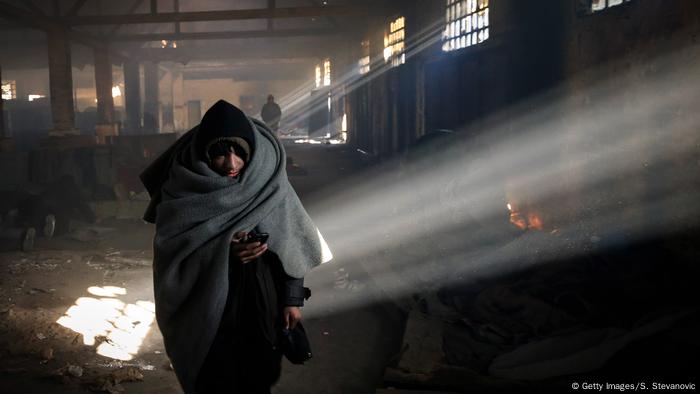 This old Belgrade customs warehouse is home to hundreds of refugees
At the mercy of the smugglers
Jelena Hrnjak knows only too well what desperate people are willing to do to get to where they want to go. The young woman from the NGO Atina, which cares for victims of human trafficking, says that there are people who have given their kidneys to smugglers. She says there are women who have to pay the smugglers with sex, and boys who are abused for child pornography. "Refugees have no protection, they often have no documents. The illegal nature of what they're involved in and fear make them even more vulnerable," said Hrnjak.
That explains why the gangs of people smugglers have been able to carry on with their activities, long after the Balkan route was officially closed last year. They are part of criminal networks dealing in organs, drugs, weapons, and child pornography. Nothing brings in as much money as the illegal trade in living people.