Yvo de Boer, the executive secretary of the United Nations Framework Convention on Climate Change, said on Monday that the pledges made so far were well below the target for emissions reduction laid down by the Intergovernmental Panel on Climate Change (IPCC).
The proposals from representatives of more than 30 of the world's richest nations meeting in the former West German capital amount to a reduction in the range of 17 percent to 26 percent of 1990 levels by 2020.
"This is not enough to address climate change," de Boer said.
The IPCC proposals, made in a 2007 report, call for a 25 percent to 40 percent reduction in emissions to limit the risk of climate change caused by human activity. The Bonn meeting, which ends on Friday, is discussing new emission targets to be put in place after 2012 when the Kyoto Protocol on curbing greenhouse gas emissions expires.
Offers on the table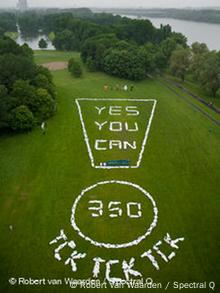 Experts have said time is running out for the environment
The talks are designed to prepare the ground for negotiations in Copenhagen in December, in which countries are intended to sign off on a successor to the Kyoto Protocol. Some 192 nations are taking part in the Bonn talks, which are proving difficult because national interests and the competitiveness of various industrial sectors are at stake.
"What is sometimes forgotten is that a large part of this process is about how 145 very poor countries are going to adapt to the impact of climate change and be helped to grow their economies in a cleaner way," de Boer said.
The European Union has offered a cut by 2020 of 20 percent compared to its emissions in 1990. The United States has proposed a cut of 17 percent compared to its emissions in 2005, which translates to about four percent in comparison with 1990.
What's at stake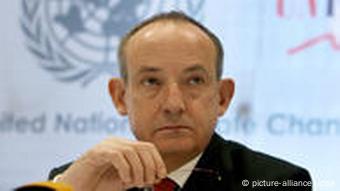 De Boer has come out in favor of the EU's plan
Scientists have urged diplomats to adopt policies that would limit global warming to two degrees Celsius (3.6 degrees Fahrenheit) by the end of this century, saying any more might prove disastrous for life on earth.
More than 20 million people have been displaced by climate-related sudden-onset natural disasters in 2008 alone, according to a new study by the Norwegian Refugee Council's Internal Displacement Monitoring Center and the Office for the Coordination of Humanitarian Affairs.
At the start of the Bonn talks, de Boer said he was confident that the Copenhagen meeting would succeed, although "there are some tough nuts to crack." Parties to the talks will have at least three more chances to make their positions known ahead of the meeting in the Danish capital. UN meetings have been set for Bonn in August, Bangkok in September and Barcelona in November.
sms/dpa/AFP
Editor: Chuck Penfold