Jia Jia went missing late Tuesday, before he was due to board a flight from Beijing to Hong Kong, his lawyer, Yan Xin, told the Reuters news agency.
His wife has also reported him missing. She said she last spoke to him at 8pm local time Tuesday.
The writer, who is in his 30s and writes commentaries for the online news portal Tencent, was reportedly planning to fly to Hong Kong, where he sometime lives, to renew his work permit, Yan said.
He had been due to give a lecture at the Chinese University of Hong Kong Thursday. Family members and friends have not been able to reach him since, Yan said.
"We don't have any clue who took him away and why... there is [a] great possibility that he was taken away from the airport. His wife has not received any official document on Jia Jia's whereabouts and status." Yan added that attempts to find Jia's flight-booking record had failed. He added that he and Jia's wife were checking with immigration authorities.
The incident appears to be the latest in a string of censorship incidents in China.
Five Hong Kong booksellers who dealt in 'gossipy' books about Chinese leaders went missing recently, only to resurface in Chinese custody.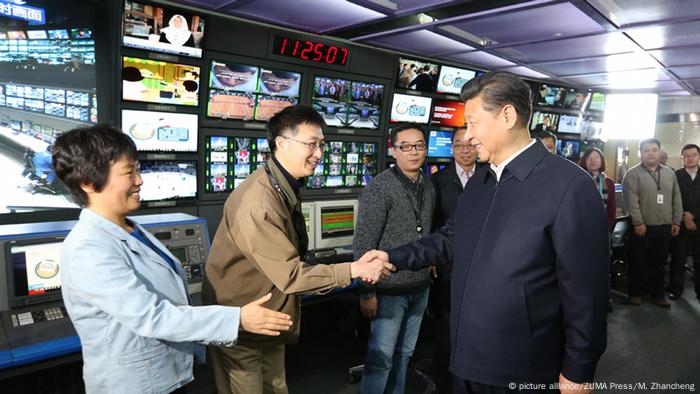 President Xi Jinping in Peking at China Central Television CCTV.
President Xi is clamping down on the Internet and is censoring opinions that do not fall in line with those of Communist Party leaders. This includes tougher penalties for "spreading rumors" via social media.
It is not clear how or why such a letter would appear where it did. It was swiftly taken down and an investigation as to how it appeared is reportedly underway.
Prior warnings
Jia had reportedly told friends he thought something could happen to him after warning former colleagues about re-publishing the letter, Yan said.
One of those cautioned was Ouyang Hongliang, a former colleague and editor at the Watching news agency, after Watching re-posted the letter.
Jia reportedly said he had had no connection to the letter, which was signed by a "loyal Communist party member."
The letter - which calls for the president to step down, accusing him of gaining "excessive power" and creating a "personality cult" - was also circulated on Chinese social media including the WeChat messaging app before authorities apparently took it down.
Beijing law enforcement authorities could not be reached for comment, Reuters reports.
jh/jm (Reuters)