China's Foreign Minister Wang Yi is currently on a tour across Africa, where he is busy shaking hands with dignitaries and posing for photo ops, . Wang's New Year's visits to the African continent are almost a tradition, this time he is in Madagascar, Tanzania, Zambia, Congo and Nigeria.
Zambia wants to become a transport and logistics hub in southern Africa and Wang has promised help. China was Zambia's "most important and reliable partner in its strive towards independent and sustainable development," Wang told the Chinese news agency Xinhua, after a meeting with his Zambian counterpart Harry Kalaba in Lusaka.
China is investing heavily in Africa. Its foreign ministry spokesman said last Friday that 25 new deals worth $50 billion (47 billion euros) were signed with African states in the first half of 2016. China has long overtaken the United States and former European colonial masters as Africa's most important trade partners.
Last autumn, a Chinese-built railroad between Ethiopia and Djibouti was inaugurated. Similar billion-dollar projects are also being undertaken in Kenya and Nigeria. These projects are anything but altruistic. They are part of China's new Silk Road initiative to expand trade ties and fulfill its ambition to become the world's largest economic powerhouse.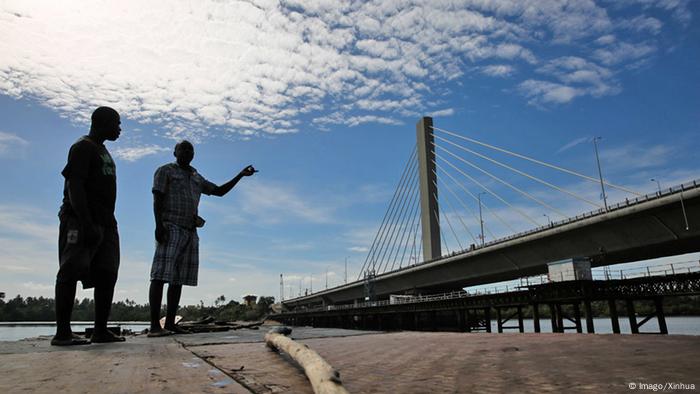 The Kigamboni Bridge in Dar es Salam, Tanzania was build by China
China as a peacemaker?
In addition to its infrastructure projects and raw material deals, Beijing is also increasingly flexing its military muscles in the continent. Stability is the key word. "Security is now a key part of China's strategy in Africa - and this is new," said Angela Stanzel, an expert on China at the European Council on Foreign Relations in Berlin. "It reflects how China thinks about global issues and its interests," she told DW.
A permanent member of the UN Security Council, Beijing is contributing troops to seven of the UN's nine peacekeeping missions in Africa. No other Security Council member contributes to so many missions. China is militarily engaged in South Sudan, Sudan and Mali as well. It is currently setting up its first naval base in Djibouti, from where Chinese troops are supporting anti-piracy missions in the Gulf of Aden. The US and France also operate large military bases in Djibouti.
According to Angela Stanzel, China wants, firstly, to protect its citizens and business interests in Africa, and, secondly, sends a signal to the rest of the world. "China has long had a very bad image in Africa and has been criticized not only by Western countries, but also by Africans," Stanzel said. "With its increased commitment in the continent, the Asian economic powerhouse wants to show it is a responsible global player."
Beijing has long been supplying arms and economic aid to countries in Africa while paying scant attention to issues of democratic governance or human rights. "If China continues to engage in Africa, there is a risk that European values and political strategies will be undermined," analyst Stanzel said.
Corperate strategies of Chinese firms in Africa have also been strongly criticized. "There are several violations of, for example, labor protection laws in mining area," said Zambian policy analyst, Vince Chipatuka.
"Chinese investors use our citizens, let them work too long, and often they do not even get protective clothing. In addition, the many Chinese workers who are moving to our country, our cities and villages are taking jobs away from Zambians. If China is investing with us, this should not be at the expense of the people," Chipatuka added.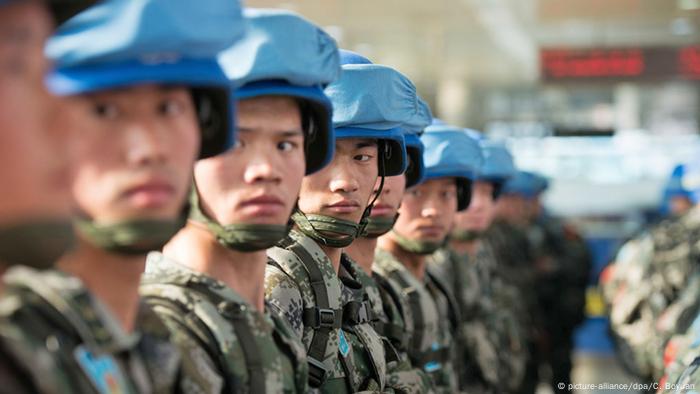 China's contingent as part of the UN's MINUSMA peacekeepers in Mali
Chipatuka thinks the Zambian government should review agreements signed with the Chinese.
Opportunities for cooperation
Stanzel also sees opportunities for Europe in China's ambitions. She thinks Europe could work with Beijing, for example, in peacekeeping missions. "I think China has an interest in peacekeeping missions overseas, but has little experience with such missions. European nations could engage in joint training efforts with Beijing," she said.
Europe could also cooperate with China in possible evacuation missions, such as the operation in Libya in 2011, when Beijing had to pull out thousands of its citizens at the height of the Libyan crisis.
China could also draw on the know-how of the European countries in development cooperation. Stanzel thinks the Chinese and the Europeans have a common interest in Africa and that is the stability of the continent. She thinks the two could engage in tough debate about Africa in the future.
Kathy Sikombe is Lusaka contributed this report.