President Xi Jinping inaugurated three new units, Chinese state television showed Saturday, creating a force to oversee strategic missiles, an army general command and strategic support force.
Xi described the modernization reform as "a major policy decision to realize the Chinese dream of a strong army."
The new missile command will replace the Second Artillery Force in controlling the military giant's nuclear and conventional missiles, which Xi said acted as a "core force of strategic deterrence."
The new army general command will act as the headquarters for land forces, while the Strategic Support Force will assist combat troops and may be involved in cyber warfare.
The restructuring is part of a major military modernization push that includes phasing out older military hardware and developing new weapons systems.
The reforms also strengthen the Communist Party's control over the People's Liberation Army, the world's largest standing army.
In an effort to make a leaner and more efficient fighting force, Xi announced in September that the 2.3 million-strong army would be reduced by 300,000 troops.
A more assertive China
The modernization comes as China flexes its military muscles with Japan in the East China Sea and with its Southeast Asian neighbors in the South China Sea.
Part of the modernization entails building up naval capabilities, including an announcement earlier this week that Beijing is building a second aircraft carrier.
China claims nearly all of the South China Sea, a rich fishing ground believed to hold reserves of oil and gas, through which some $5 trillion in trade passes annually. But the Philippines, Brunei, Vietnam, Malaysia and Taiwan also claim parts of the South China Sea.
To exert its sovereignty, China has built seven military outposts on reefs and outcrops, a move criticized and unrecognized by the United States.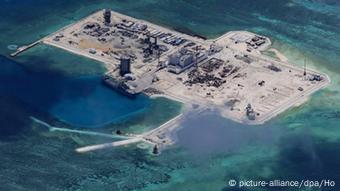 China has built seven military outposts in the South China Sea
The dispute over the South China Sea has led the United States to conduct so-called "freedom of navigation" exercises involving aircraft and naval ships to send a signal to Beijing that territories claimed by China fall within international air and maritime space.
China has sharply criticized the US exercises as provocative.
Beijing's military modernization and claims over the South China Sea also appear to be triggering a regional arms race, with China's neighbors upping defense spending and arms purchases.
The United States for its part has changed its strategic posture through a so-called "pivot" or "rebalance" to the Asia-Pacific region, a move designed to protect American economic and strategic interests.
cw/se (AFP, AP)