Personnel have departed to begin setting up China's first overseas military base, in Djibouti, on the Horn of Africa. China has officially designated the Red Sea base as a logistics facility.
"The base will also be conducive to overseas tasks - including military cooperation, joint exercises, evacuating and protecting overseas Chinese, and emergency rescue, as well as jointly maintaining security of international strategic seaways," the state news agency Xinhua reported on Wednesday, but did not announce when operations would formally begin or how many troops the country had sent.
Several countries have set up shop in Djibouti - which borders Eritrea, Ethiopia and Somalia - a vital port and a model of stability in an otherwise volatile region. The United States, France, Japan, Italy and Spain already have bases in the country, and Saudi Arabia has begun construction on one.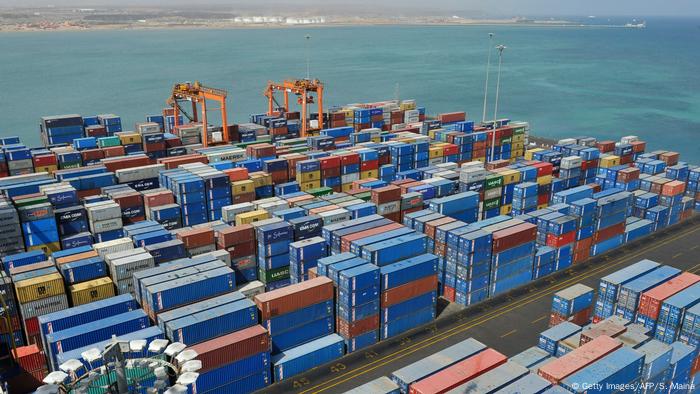 The Port of Djibouti is at the intersection of major international shipping lines connecting Asia, Africa and Europe
'Control the world'?
In an editorial Wednesday, the state-run Global Times newspaper did not attempt to conceal the fact that China had established a military presence in Djibouti. "Certainly this is the People's Liberation Army's first overseas base, and we will base troops there," the editorial went. "It's not a commercial resupply point. It makes sense there is attention on this from foreign public opinion."
Speculation persists in diplomatic circles that China would build other such bases - in Pakistan, for example - but the government has dismissed this. The Global Times assured its readers that Chinese officials want only to protect the country's security: "It's not about seeking to control the world."
In a front-page commentary, the People's Liberation Army Daily claimed that the base would increase the military's ability to ensure global order. China already has many UN peacekeepers in Africa and has become quite involved in patrolling for pirates.
The People's Liberation Army Daily assured its readers that China would not seek military expansionism or get into arms races, no matter what. "These promises will not change because of the construction of the overseas logistics base," in the words of the People's Liberation Army Daily.
In 2011, China sent one of its most sophisticated warships, along with military transport aircraft, to help evacuate about 35,000 citizens from Libya during the uprising against dictator Moammar Gadhafi. Then, in 2015, the military detached three navy ships from its anti-piracy patrols to rescue Chinese citizens and other foreign nationals from fighting in Yemen. The same year, China took part in its first Mediterranean joint naval exercises with Russia.
mkg/rt (Reuters, AFP, dpa, AP)