China's President Xi Jinping and Britain's Prime Minister David Cameron signed numerous deals on Wednesday worth around 54.6 billion euro ($61.9 billion) during the second day of Xi's state visit to the UK. A highly anticipated and controversial nuclear power plant deal was also announced at their joint press conference.
"One of the foremost elements of this visit is the huge number of commercial deals that we are signing, totaling almost 40 billion pounds," Cameron told business leaders. He declared that the UK would be China's "partner of choice" in the West, with China funneling 8.2 billion euros ($9.3 billion) into the Hinkley Point C nuclear plant. China's largest single trading partner in the EU is currently Germany.
The plant in southwest England will be the country's first new nuclear power plant since the 1980s and the first reactor built in the EU since the Fukushima disaster in 2011. Electricite de France (EDF) and the state-owned China General Nuclear Power Corporation (CGN) will both build the plant, with EDF taking a 66.5-percent share and CGN 33.5 percent. The two companies will also construct two additional nuclear power stations, with one being designed and majority-owned by China.
In addition to the nuclear deal, Britain also secured Chinese investments in the oil and cruise ship industries. Cameron announced that British Petroleum (BP) signed an 8.8 euro ($10 billion) liquefied natural gas deal with China's power producer Huadian. Carnival Corp., the world's largest cruise ship operator, walked away with a new ship-making deal totaling 3.5 billion euros ($4 billion). Rolls Royce also benefited from Xi's visit, reportedly signing a 1.9 billion-euro ($2.2 billion) agreement with a Chinese firm to provide jet engines.
"We will build a global, comprehensive strategic partnership between our countries in the 21st Century and jointly open up a golden era," Xi said to reporters, emphasizing that the new nuclear deal was the crowing investment of the day.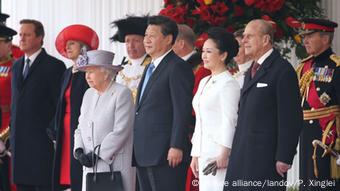 President Xi Jinping's visit began with red carpet ceremonies, but the Chinese president was all business on his second day
British backlash
Despite Cameron's insistence that the "historic" nuclear agreement would bring 25,000 jobs to the UK and provide power to 6 million homes, critics remained skeptical of the project costs, security concerns, and human rights issues.
"Hinkley Point C is likely to be the most expensive power station ever built anywhere," said Lisa Nandy, energy and climate spokeswoman for the opposition Labour party. "I'm deeply concerned about the costs for households, and particularly vulnerable groups like pensioners."
Others worried about the security implications of giving China intimate access to British infrastructure. "It won't be the physical security that matters, but the cybersecurity," said Alan Woodward, visiting professor of computing at the University of Surrey. "We don't want a foreign power being able to quite literally turn off the lights from some remote location."
Security for steel industry
Xi also addressed the issue of steel dumping at the joint press conference, saying that China had reduced its iron and steel capacity by 700 million tons.
"The world is facing an overcapacity of iron and steel, not just the UK, this is because of the impact of the global financial crisis," Xi told reporters through a translator. "China has taken a series of steps to reduce the capacity. We have reduced more than 77.8 million tons of production capacity and you can just imagine our task to find jobs for those workers."
Many blame the failing British steel industry on China's cut prices, with over 4,000 jobs lost or at risk this month alone in the UK.
Xi's state visit to the UK is set to last until Friday.
rs/msh (AP, AFP, dpa, Reuters)