Anni-Frid "Frida" Lyngstad ,one of the singers of the former pop cult band ABBA is probably one of the most famous Lebensborn-children. Born to a German nazi officer and a Norwegian mother during the German occupation of Norway, Anni-Frid belonged to the "children of shame" – unwanted after the Germans lost the war.
Being an illegitimate child of a Nazi, her grandmother took her to Sweden to escape mistreatment - children of enemies were ostracized in post-war Norway.
Blue eyes and blond hair preferred
"Lebensborn" was a special Aryan breeding Programm established in 1935, the brainchild of Heinrich Himmler, head of the SS. He wanted to breed what he considered racially "superior children".
Himmler regarded the Norwegians with their blue eyes and blond hair as especially aryan and pure.
The aim of the programme was to entrust leadership of Norway to these "Aryans" after the war, or to have them and their mothers move to Germany to bring more Nordic blood into the German Reich.
Incentives for bearing Aryan children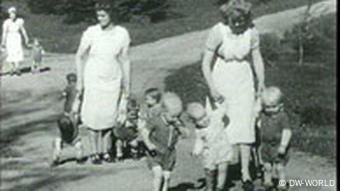 Every pregnant Norwegian woman who could prove her child's Aryan ancestry was entitled to financial support or a privileged treatment in maternity homes. They could also leave their children in special homes called "Lebensborn", where the children received special nutrition and an education which reflected the Nazi way of thinking.
The program was also set up in other German occupied countries such as Belgium, France and Luxembourg. Altogether, Himmler established more than 20 Lebensborn institutions.
The majority of these homes were in Norway. Around 350,000 German soldiers occupied Norway during World War II and coupled, favored by Heinrich Himmler, with Norwegian women. A relationship with consequences: about 10,000 to 12,000 children between 1940 and 1945 were fathered by Germans. About 6,000 of them were born in Lebensborn institutions. From 1941 onwards, these "superior" children were automatically considered as being German.