There are no longer words to describe the atmosphere in Idomeni - a small village of less than 150 people perched on the Greek-Macedonian border - other than desperation, tension, anger, chaos.
"What is going to happen to us? I cry every day; I have a wife and my baby is sick," said Mohammed who has been stranded at the borders for eight weeks. "My number is 65, I am next but how long are we going to wait?" he continued.
Although it was announced that 500 people will cross daily, on Saturday, less than 220 were accepted, on Sunday 305, and on Monday just 50. People are fed up and this has already started to show. On Saturday, the first protests started, but they were calm and peaceful. The first demonstration was planned for 10:30 in the morning, but as the people dispersed, they had already started to prepare for the next one scheduled for noon.
"We don't want food, we don't want money, we want to go. Look at me! I have no clothes, I have not showered. Why?" said Reem, a passionate Syrian woman who was on the frontline of the protest.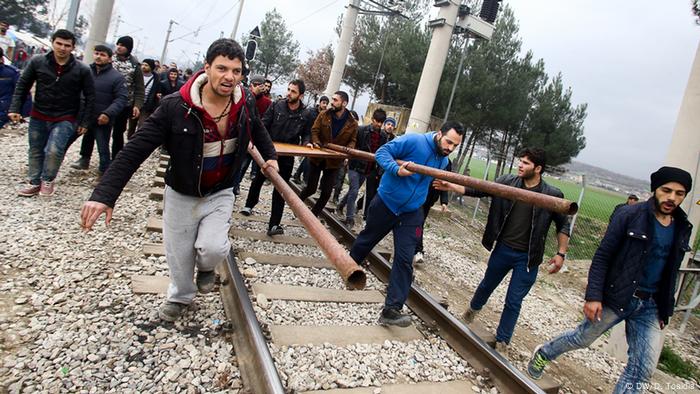 Desperation has heightened tensions along the Greek-Macedonian border
Frustration mounts
The protests continued on Sunday, as refugees decided to shut the train line.
"There are just too many people here. Right now there are 7,000 in a camp that can only host 3,000," says Antonis Rigas, Field Coordinator for Medicins Sans Frontieres (MSF).
On Monday, however, everyone could feel that something major was going to happen. People started gathering on the train track; whispers were everywhere; and the leaders were trying to coordinate everyone.
Hundreds gathered in front of the sliding fenced gateway, which was built in order to let trains from Greece enter Macedonia. As the first Greek police blockade broke, hundreds started running towards the border crossing. Those on the frontline were holding a battering ram in the hope of tearing down the fence.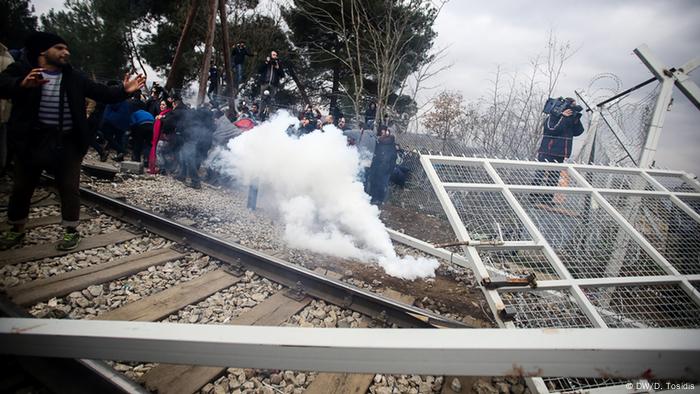 Macedonian police responded to rock-throwing refugees with tear gas
Macedonian police respond
The border crossing looked chaotic. Some were climbing the barrier anywhere they could, and all chanted in one voice "Open the border" in Arabic first and then in English. While the Macedonian police stood stone-faced, the crowd was losing patience. Those in the front started pushing the sliding door with force until it opened for a few seconds. The Macedonian police immediately placed barricades to keep the door shut.
Yet that was not the end. Syrian and Iraqi refugees became even more determined to enter the camp in Gevgelija. The barricades could no longer keep the door shut. It opened again. That was when everything went down. The police started firing teargas directly into the crowd inside Greek territory. Refugees and journalists started running in panic. Everyone was crying out of fear of what might happen next - even as the crowd dispersed, the teargas kept coming.
A young girl was struggling to breathe, desperate for something that would ease the pain, while looking for her mother. Those who were calmer were trying to keep everyone in order so that the situation would not escalate.
"I was in the camp in Kozani, but I came here to help out because I speak English and Arabic. My family is in this camp. I told them to stay calm; to not throw stones. But they don't listen. This was an expected outcome," says Rami, a 20-year old Syrian who has been in Greece for days.
A few moments later, the crowd got calmer, but kept on protesting on the train lines. They plan to stay in front of the gate during the night.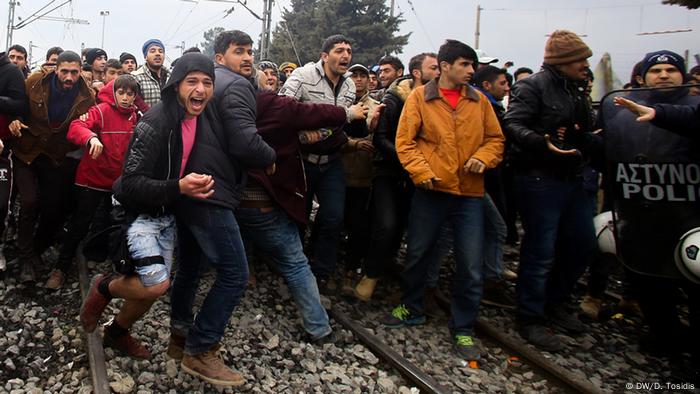 Refugees want to go to Germany but are trapped in Greece with nowhere to go
'We need to go to Germany'
"This can no longer continue. I want to go back. They say that it is better in the hotspots. I want to go to Samos, however. I have heard that if I stay there for two months I can then apply for asylum and go to Germany by plane. I can no longer stay here. We spend too much money here. This is not a way to live. The food is not enough – look at the line! We come from Syria, we need to go to Germany," says a young man who is fed up with the conditions in the transit camp of Idomeni.
And indeed the conditions in Idomeni are horrible, as hundreds arrive daily - some in taxis, others on foot. At the same time, as a response to Monday's events, the Greek government issued an announcement banning journalists from entering the hotspots.
Idomeni, however, is a different story - it is neither a hotspot nor a proper refugee camp; there are too many people waiting to cross the border and who want their stories to be told in the hope of putting pressure on Balkan and European governments.
On March 7, the European Union has planned a meeting to discuss the refugee crisis. Yet people keep on crossing the sea and arriving in Idomeni only to find themselves caught between chaos and questions about their future.