Speaking in Berlin, former Catalan President Carles Puigdemont on Thursday announced his decision to renounce leadership of the region's legislature. He tapped Catalan lawmaker Quim Torra to take the helm, urging parliament to confirm him as regional president.
The announcement marks a major shift for Puigdemont after he declared Catalonia's independence last year, a move that prompted Madrid to intervene and dissolve parliament in favor of fresh elections.
Read more: Catalan independence: What you need to know
What Puigdemont said
Read more: Is Catalan independence a second coup in democratic Spain?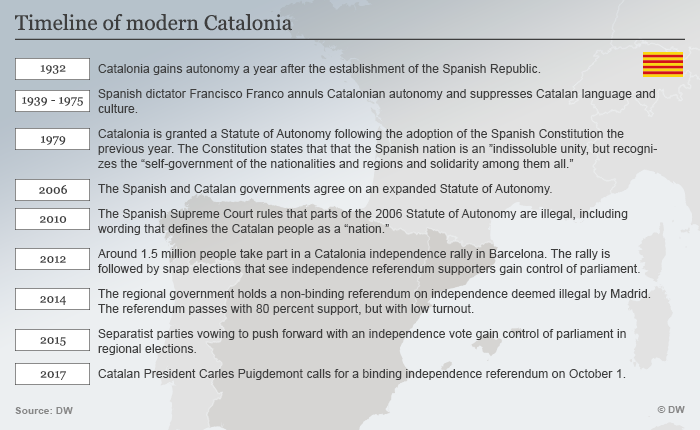 Why now? Spain's Constitutional Court canceled a reform that would have allowed the regional parliament to appoint Puigdemont as president without him being physically present in the legislature.
Who is Carles Puigdemont? Puigdemont was the president of Catalonia from January 2016 to October 2017. He was instrumental in organizing an outlawed independence referendum.
Who is Quim Torra? Torra is a pro-independence lawmaker. Before taking up office, he worked as a journalist and wrote numerous books about the Catalonia's independence. According to Puigdemont, he has enough support in parliament to be elected regional president.
What happens next? Regional lawmakers must vote in favor of Torra's candidacy. If he is elected to office, he must form a regional government with the intention of leading Catalonia's independence movement.
Read more: In Catalonia, language and identity go hand in hand
ls/sms (Reuters, AFP)