On Monday Catalonia's former prime minister Artur Mas will stand trial on charges of serious disobedience and malfeasance. He's accused of staging an independence vote while still in office. The state attorney has requested a 10-year disqualification period for Mas, plus nine years for former deputy Prime Minister Joana Ortega and former Education Minister Irene Rigau.
The nature of Mas' case has once again stirred the debate in Catalonia. His supporters believe the accused politicians are being subjected to a political trial. Roger Torrent, a member of the Catalan Parliament for the pro-independence party ERC (Republican Left of Catalonia), told DW that "the trial is really about the capacity of the Catalan people to decide their own future."
On the other side of the table, pro-unity parties are celebrating that Mas has to face trial and have no wish to see another referendum. Lorena Roldán, a Catalan MP and member of the unionist party Ciudadanos, said that the Constitution doesn't include the right to hold "any kind of consultation or referendum for a region to split from Spain." Roldán said that, regardless of the outcome of the trial, her party is satisfied. "Politicians should not have any privileges," she told DW.
2017 - a new referendum
All things being equal, the Catalan people will vote in another referendum this year. From the point of view of the pro-independence regional government, the vote will be legally binding, as Prime Minister Carles Puigdemont announced last December. The exact date of the referendum hasn't been announced yet, but the governing Junts Pel Si ("Together for Yes") coalition has set September as the deadline.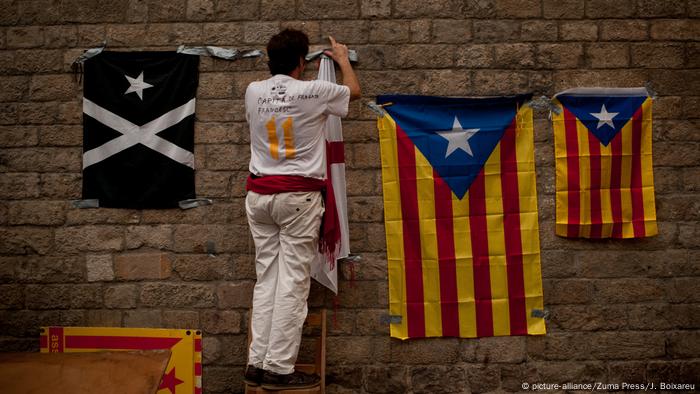 Another referendum on independence is likely; however, the status quo is unlikely to change
Puigdemont has promised "not to give up" on negotiating the terms of the plebiscite with Prime Minister Mariano Rajoy's government. However, Rajoy has not yet shown any signs of softening his stance. In a press conference earlier this week, Rajoy said he would not allow any consultation. "I'm happy to talk and to reach an understanding, but I won't negotiate Spain's unity or liquidate its national sovereignty [...], for two reasons: The constitution and the laws don't allow it, and I don't want to."
Pro-independence MP Roger Torrent says that the Catalan people will be called to the polls regardless of Madrid's opposition. "I'm sure that the Spanish government will try to prevent the vote in any way possible, but we're determined and have political legitimacy." He insists that the referendum will be legal, although admitting that it may only be so in Catalonia's own legal system.
For Lorena Roldán, there is no doubt that a referendum would be illegal. "At the moment, looking at the constitution and the current legal framework, there is no way for a region to split from Spain."
A European question
The "EU question" whether an independent Catalonia would remain a member state is one of the key battlefields of the debate. For pro-unity parties, there is no room for debate: Once Catalonia leaves Spain, it would be a new country and would have to reapply for membership if it wants to remain part of the EU.
Last month, Junts Pel Si leaders Carles Puigdemont, Oriol Junqueras and Raül Romeva travelled to Brussels to gather support for their cause. However, as reported by the Barcelona-based newspaper La Vanguardia, their conference was mostly attended by Catalan citizens and MPs from other European separatist parties. Puigdemont didn't meet any representatives of the European Commission and his team said they hadn't requested it.
Antonio Barroso, Managing Director and Deputy Director of Research at Teneo Intelligence, a political consulting firm, believes that Brussels, and not Madrid, is where the real hurdle for pro-independence politicians lies. "The EU's negotiation resources are currently focused on Brexit; Catalonia is not a priority," he told DW. The political analyst is skeptical that Catalonia could find any support from other European states "if it broke away unilaterally."
However, Torrent is convinced that an independent Catalonia wouldn't be expelled from the Union. "It would be bad for everyone if Catalonia was left outside Europe, so we're not even worried about such a possibility."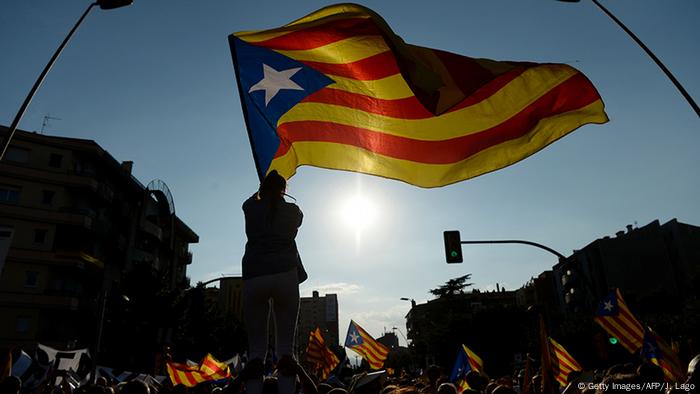 Even if Catalonia were to gain independence, the central government in Madrid would not recognize it
A third perspective
In the last two general elections, the most popular party in Catalonia was neither pro- nor anti-independence. En Comú Podem, the coalition led by Barcelona mayor Ada Colau, has managed to incorporate a third voice into the debate: Her group defends the right to hold a legally binding referendum, but doesn't necessarily support breaking away from Spain. Next March, Colau and her allies are expected to unveil a new party, with the intention of wresting the hegemony away from the pro-independence coalition Junts Pel Si.
MP Marta Ribas belongs to ICV, a progressive green party in Colau's camp. She's in favor of remaining in a politically reformed Spain, but above all, she thinks a negotiated solution is the only possible outcome. "Unilateral independence isn't possible, but the central government can't expect to take only unilateral moves either, using just the courts and the police. They have to acknowledge that Spain is a multi-national state," she told DW.
"In any political conflict in human history, the only real solutions come with dialogue and negotiation, and common sense will bring us that, too - eventually."