Spanish Prime Minister Mariano Rajoy on Sunday urged Catalan voters to defeat the separatists, who attempted to split the region from Spain, when they cast their ballot in the upcoming election.
"We want a massive turnout to begin a new political era of tranquility, normality, coexistence and respect," Rajoy told the Catalan members of his conservative Popular Party at a Barcelona hotel.
"We must urgently bring back normality to Catalonia ... to reduce social tension and stop damage to the economy."
This was Rajoy's first trip to the region since the national government dismissed the regional administration for its unilateral declaration of independence in late October.
Rajoy defended his decision to temporarily take over running Catalonia, which Catalonia's separatists, and even some moderates, have criticized as heavy-handed.
"Exceptional measures can only be taken when there is no other option, and we adopted them to stop the increasing attacks to peaceful coexistence," he said.
Polls show a tight race between Catalan separatists and politicians who oppose independence.
Don't leave
Earlier in the day, Rajoy called on companies not to move their headquarters out of the region, as hundreds have already done amid uncertainty over its future.
Rajoy asked "all businesses that work or have worked in Catalonia" not to go.
His visit comes a day after hundreds of thousands of Catalans protested against the jailing of regional officials for declaring independence on October 27 after a banned referendum.
Police estimated the number of protesters at 750,000. The march was called by Catalonia's two main grassroots independence groups under the slogan "Freedom for the political prisoners," after their leaders were remanded in custody on charges of sedition last month.
Read more: Pro-independence Catalans rally for jailed leaders in Barcelona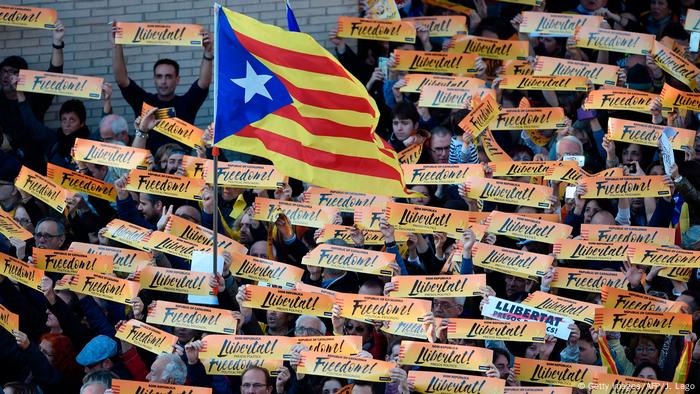 Demonstrators gathered near the regional parliament building
Widening ripples?
The push for independence by the pro-separatist officials has plunged Spain into political crisis.
It has also caused concern in the European Union, which fears knock-on effects among its member states if Catalonia pursues a course toward secession and has backed Rajoy's government in its actions against the region.
Eight members of the sacked Catalan Cabinet are currently detained and facing charges of sedition, rebellion and misuse of public funds. A further six officials charged with similar offenses were granted bail this week by Spain's Supreme Court.
Deposed Catalan leader Carles Puigdemont and four ex-ministers remain in self-imposed exile in Brussels, where they are awaiting a hearing on possible extradition back to Spain after Madrid issued a European arrest warrant for them.
Puigdemont and his aides say they are staying in Brussels because they fear they will not receive a fair trial in Spain.
New regional elections called by Madrid are to be held on December 21.
tj/jlw (AFP, Reuters, AP)