The French were the first to receive them in May 1946. They were so enormously popular, that one French woman received 2,400 replies to her marriage advert in the newspaper when she promised her future husband a CARE package.
There were no luxury items in the ochre-brown boxes, but they did contain what people needed most: a total of about 20 pounds (nine kilograms) of meat, cheese, fruit and vegetables, sugar and coffee, butter, condensed milk, cornflakes, chewing gum and a packet of cigarettes.
The first CARE packages that went to Europe, were the so-called Ten-in-One-Rations from US Army supplies, which during the World War Two were put together to feed a meal to 10 soldiers.
Calorie-rich aid for Europe
The parcels were sent to ease the worsening of supplies, particularly in West Germany where large numbers of people were at risk of starvation in the wake of the second world war.
In November 1945, a total of 22 American aid agencies set up the Cooperative for American Remittances to Europe (CARE), which would end up giving the packages their name. It wasn't until February 1946 though that the US government permitted the aid parcels to be sent to Germany.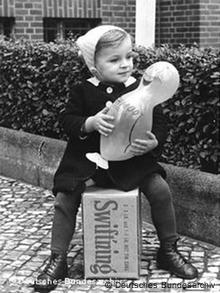 Over 82,000 tons of food were sent to Germany by CARE
The "American Ranger" freighter docked in Bremen in the middle of July 1946 with the first of 35,700 CARE packages for Germany. One month later, on August 10, the first family in Berlin held one in their hands. Thousands of parcels would follow, all sponsored by US families who paid $10 per parcel.
Later, CARE also helped with the Berlin Airlift of 1948/1949 with calorie-rich help for those in need. Some 200,000 parcels were dropped from the so called "Rosinenbomber," or "Candy Bombers" as the planes flying into the isolated western part of the city were called.
The Soviet Union however blocked delivery of CARE parcels into the eastern sector.
Much more than a mere package
Germany's first post-war chancellor, Konrad Adenauer, praised CARE in 1949 as the most important aid organization of its kind saying "it created a bond of friendship."
CARE wasn't the only aid program helping the people of post-war Europe. Thanks to the Hoover School supply program, named after former American president Herbert Hoover, German school children received a warm meal.
While CARE wasn't the first organization to distribute parcels - the Red Cross began that in during World War One - it remains the name that has stayed in people's minds because of good PR work and because the organization still exists, said Hans-Joachim Westholt from the Bonn museum Haus der Geschichte.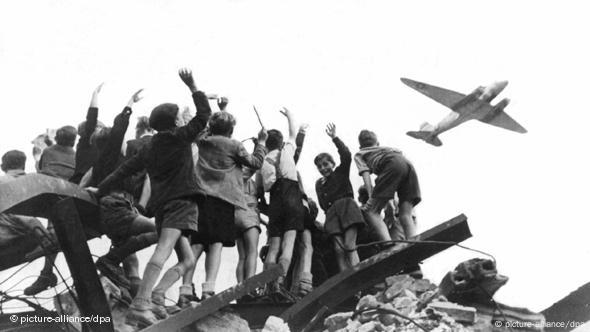 Candy Bombers delivered food to West Berlin during the Berlin Blockage
CARE packages like the many thousands that were sent to Europe until 1960 don't exist anymore. The last 600,000 parcels containing staple foods were sent to Russia in 1990/1991 when the country experienced an extremely hard winter.
Since its inception, CARE has developed into a modern aid movement, assisting people in over 80 countries to help themselves. But the classic CARE parcel remains the symbol of the organization to this day and is still offered by numerous aid agencies around the world.
Care parcels still help
At UNICEF, people can send so-called "survival packages" online to West and Central African countries. It's not a personalized parcel, though. People can pick what they would like a parcel to contain, for instance 50 euros ($71) could buy 150 packets of peanut butter for malnourished children in Niger while 75 euros provide 60,000 iron supplements to pregnant women.
CARE stopped delivering packages, but its name often still refers to aid sent by mail
After natural disasters, aid organizations often still organize traditional emergency aid of staple food products via parcels. Churches, schools and smaller aid groups also still regularly call for donations in the form of parcels - often during holidays. Such parcels, for instance, contain toys for orphans in eastern Europe. Or clothes and non-perishable food items for orphanages in Afghanistan. Sometimes companies also donate goods for parcels.
But in Germany the "Westpaket" or "West parcel," and its twin the "Ostpaket" or "East parcel," became even more popular than CARE parcels. The West / East parcels were of all shapes, colors and sizes and were sent between West Germans and their relatives and friends in the communist former East Germany.
East German authorities tried to stop the parcels from the West by not delivering packages labeled as "gifts" or ones which did not contain a list of its contents. But the parcels that did get through allowed for a vivid cultural and culinary exchange of much sought-after coffee and chocolate from the West, and Eastern German wooden toys or Russian products.
Author: Marlis Schaum / jw
Editor: Sean Sinico