Cambodia's election commission declared Hun Sen's Cambodian People's Party (CPP) outright winner Wednesday in all 25 provinces in the 29 July vote – the sixth since UN-overseen polls in 1993 as the nation emerged from genocide.
From self-exile, Mu Sochua, deputy leader of the banned Cambodia National Rescue Party (CNRP), vowed to press on for Cambodians who "were excluded from exercising their choice."
Read more: Cambodia's 'sham' election
His CNRP was dissolved by Cambodia's Supreme Court last November after amassing 44 percent in a 2013 ballot and making similar gains in local 2017 elections by citing inequality and corruption.
Western governments had pulled funding for the running of last month's vote but major creditor China maintained support.
The ruling CPP had put voter turnout at 83 percent as evidence that an opposition boycott had failed.
Rights groups had said the vote was neither free nor fair amid claims of voter intimidation and some 600,000 spoiled ballots.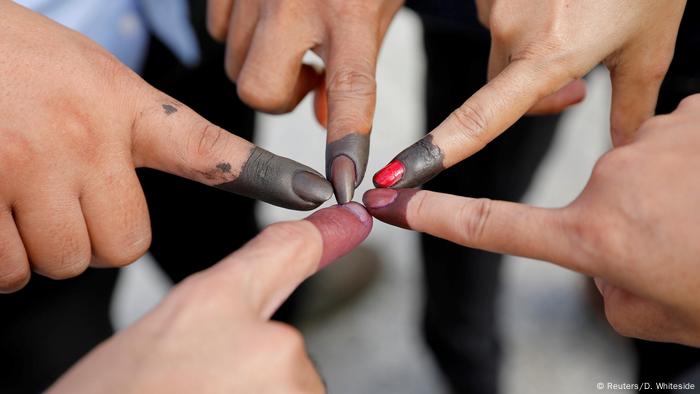 Despite voter checks such as inked fingers, rights groups say the vote was not fair
Hun Sen, now 66 (pictured above), defected in the 1970s from the Khmer Route regime as a commander and went on to install himself as prime minister in 1985 at the age of 32.
A complex mixed of development aid-funded road and mega-mall projects and alliances with police, army and courts have reputedly kept him in power.
Among some in Cambodian society, his image as a savior prevailed.
"I don't care about having a one-party parliament. What I want is calm after the election, tuk-tuk (taxi) driver Nhem Ry told the news agency AFP post-election.
ipj/rc (AFP, Reuters, AP)