Un Samboth was in her late twenties when life in Cambodia changed forever. The Khmer Rouge regime had just taken control of the country. Tens of thousands of people were forced to do hard labor. Others were taken away to be killed or died from starvation. "When we ran out of food, people started to disappear," Un recalls in the nation's capital Phnom Penh. "We were hungry all the time. We were forced to grow a lot of rice, but there was never enough food to eat."
70-year-old Un feels free to talk about the horrors of the Khmer Rouge, the regime that ruled Cambodia between 1975 and 1979, and under which an estimated 1.7 million people died. Just as thousands of other victims Un needed to face her demons. One way to do so is through the books, movies and documentaries that have been produced about the Khmer Rouge over the past decades.
This weekend, another movie - "First They Killed My Father" - will see its Cambodian premiere. The film is based on a memoir from a Khmer Rouge survivor, Loung Ung. It is expected that the movie will help Cambodians to better understand their own history.
A reminder
"First They Killed My Father," based on an eponymous book, is one of the biggest films yet about the Khmer Rouge. The movie, which has a Cambodian cast, is directed by Hollywood star Angelina Jolie and will screen on Netflix later this year. For the people in this Southeast Asian country, it serves as a reminder of the necessity to talk about what happened when Pol Pot and his soldiers took over.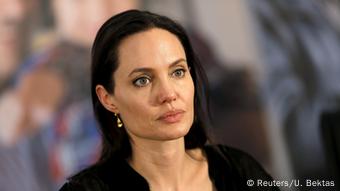 Angelina Jolie directed the Khmer-language film on location in 2015-16
"I'm afraid many young people are not interested in what happened during the Pol Pot regime," Un says with a sigh. In the 1970s she and her husband lived in the countryside, where they had a farm and a large plot of land to grow rice and vegetables. Un, her husband and their kids all survived the Khmer Rouge, but Un lost 4 siblings. A brother was killed because he worked as a helicopter pilot for the previous government, 3 sisters because they were seen as middle class. "The Khmer Rouge said they were enemies and therefore sent them to prison. I never saw them again."
Elsewhere in Phnom Penh, in one of the Buddhist monasteries, Touch Phoneng recalls that under Pol Pot all religions were banned. "Monasteries were used by the Khmer Rouge as a warehouse for food or weapons," the 87-year-old monk says. "Monks were forced to work as common people in the fields. Many monks were taken away and never came back."
Touch became a monk in 1986 when monasteries were restored. Ever since, Khmer Rouge survivors have come to him for advice on how to deal with their torments. "I think a lot of people have tried to tell their kids about their sufferings, but many young people don't seem to believe what happened."
The monk thinks "First They Killed My Father" will make it possible for young people to become more aware of their country's history. But, he says, even when they believe it, they can never understand it entirely. "Simply because they haven't lived through it."
Need for education
This isn't Cambodia's first look back to its dark days, however. Since the collapse of the regime, many books, movies and documentaries have been released, with "The Killing Fields" being the most famous example. The 1984 movie, in which a journalist gets trapped when the Khmer Rouge takes control, won 3 Oscars and several other awards.
Together with educational material about the genocide Cambodia experienced under the Khmer Rouge regime, movies and books help the country to define its history, says Youk Chhang, director of the Documentation Center of Cambodia. "When young people say they are not interested in the past, it really confirms that we should educate them and teach them about history."
Youk continues: "Unfortunately genocide has become part of the Cambodian identity. We can't erase it. It's part of who we are. Everybody's now giving it a place in history, so that we can move on."
On Saturday, February 18, Youk will be in the audience of the "First They Killed My Father" premiere at the centuries-old Angkor Wat temple complex in Siem Reap. While Cambodia's King Norodom Sihamoni will preside over the event, Queen Mother Norodom Monineath Sihanouk and senior government officials will also attend the showing of the movie.
Youk is enthusiastic about the movie and says many Cambodians support the release. "It's great for Cambodia that this movie could be made. I think many people will want to see it."