Lieutenant Colonel Andre Wüstner, chairman of the independent Armed Forces Association (DBwV) that represents 200,000 active and former army personnel and their families, told Germany's Deutschlandfunk public radio that up to 9,000 soldiers had been assigned to help with Germany's intake of refugees.
He urged German communal authorities to find substitutes by the end of 2016.
After a certain amount of time, he said, the states and the municipalities will be "in a position to solve the problems and meet the challenges on their own once again."
Strains on personnel
Refugee care is "not our main area of competence and not our main task," Wüstner said, adding that the Bundeswehr has increasingly become an army of specialists.
At the same time, Defense Minister Ursula von der Leyen said earlier this month that "helping refugees is becoming an important additional task for Bundeswehr soldiers."
Almost 41,000 refugees are currently housed in 79 Bundeswehr barracks and on drill grounds. In addition, soldiers provide transportation, help with medical services, reception and general organizational tasks for refugees across the country.
But Wüstner said the thousands of soldiers tasked with refugee care at the moment were badly needed elsewhere. Multiple deployments, including missions in Syria, Afghanistan, Iraq and Mali, have stretched Germany's armed forces to breaking point, he said.
Stretched to the limit
In fact, military experts warn the German Armed Forces can no longer carry out all of its tasks with the current staff and resources.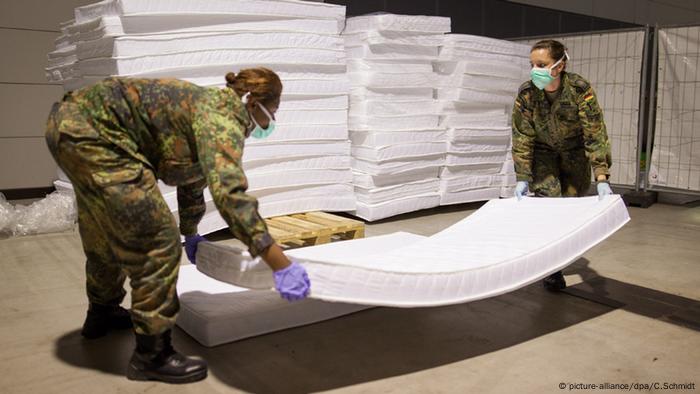 Bundeswehr soldiers in the refugee crisis - helping out in an emergency or a new Kind of mission?
The German parliament's commissioner for army personnel Hans-Peter Bartels said the Bundeswehr was in "free fall" and needed at least 7,000 new recruits.
A majority of Germans support Bartel's calls for the armed forces to boost numbers in light of worldwide crises.
Fifty-six per cent of Germans said they are in favor of boosting the
German military's personnel, according to a YouGov survey commissioned by Germany's dpa news agency. Thirty per cent of those asked said they would oppose such a move.
As a minimum requirement to fulfill its current tasks, the military must get back to the level of 185,000 soldiers foreseen in the 2010 Bundeswehr reform, according to the commissioner. The 2010 reform saw conscription abolished and the size of the army reduced to the current level of about 179,000 soldiers.