During an official visit to Turkey in January, German Foreign Minister Guido Westerwelle called for "fair negotiations" with Ankara with regard to its European Union membership bid.
But now, US embassy documents leaked by the whistle-blowing website WikiLeaks and published by the German news magazine Der Spiegel, indicate that Westerwelle is far more skeptical about Turkey joining the EU than he has said in public.
According to the document, Westerwelle told US Secretary of State Hillary Clinton in November 2009 on his first visit to Washington as German foreign minister that the European Union would not be able to absorb a country as large as Turkey.
Turkey not modern enough to join EU
If Germany had to decide on Turkish EU membership, the answer would be "no," Westerwelle said, according to Spiegel, which is one of four international media organizations given access to the US diplomatic cables by WikiLeaks.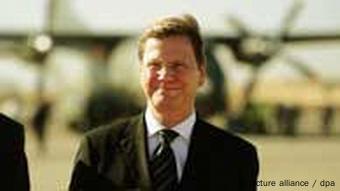 Westerwelle was described in other cables as 'aggressive' with 'little substance'
The German foreign minister reportedly said Turkey was "not modern enough" to join the EU, but that the question would only "present itself in five or six years."
The German Foreign Ministry on Saturday said as a matter of principle it does not comment on such reports.
The Foreign Ministry officially advocates conducting open accession negotiations with that aim at allowing Turkey to join the EU. But Westerwelle and Chancellor Angela Merkel have publicly maintained that membership negotiations must not contain "any foredawn conclusions." While in the opposition, both politicians had said Turkey should be offered a "privileged partnership" with the EU rather than full membership.
The US diplomatic dispatch also suggests that Westerwelle told Washington that his liberal Free Democratic Party (FDP) wanted to keep the door open for Turkey to encourage structural reforms. If Germany were to close the door, it would affect the entire domestic situation in Turkey, Westerwelle reportedly said.
Author: Gregg Benzow (dpa)
Editor: Sean Sinico