The proposal put forward by Michael Brand of the Christian Democratic Party (CDU) and Kerstin Griese of the Social Democratic Party (SPD) was adopted by Bundestag members on Friday.
The proposed bill submitted by Brand and Griese had called for "striking a balance" between punishing those who provide suicide assistance and a complete deregulation of the process.
The Brand-Griese bid received 309 votes, whereas the law proposed by SPD's Karl Lauterbach and CDU'S Peter Hintze got 128 votes. CDU's Patrick Sensburg, who sought a complete ban on any assisted suicide, received 37 votes. Seventy parliamentarians rejected all proposals, while three abstained from voting.
The parliamentarians voted in favor of one of the proposals irrespective of their parties' policy on the matter.
Competing proposals

There were four legislative proposals on the sensitive issue that the Bundestag could vote for on Friday. They ranged from a complete ban on assisted suicide to broad allowance for most forms of helping a patient end their life.
The lower house of parliament had to decide whether they wanted to restrict the liberal laws, with many of the members concerned about organizations that offer assisted suicide services.
Germany has no legislation covering assisted suicide at the moment - as long as they administer the fatal drug to themselves, it is legal to provide a seriously ill person with the means to help them die.
The topic is particularly sensitive in Germany as "euthanasia" was used as an excuse by the Nazis to kill more than 200,000 people with physical and mental disabilities.
The Bundestag debate
Prior to the voting, the Bundestag members debated the proposed bills extensively. CDU's Patrick Sensburg called for a strict ban on any form of end-of-life measure.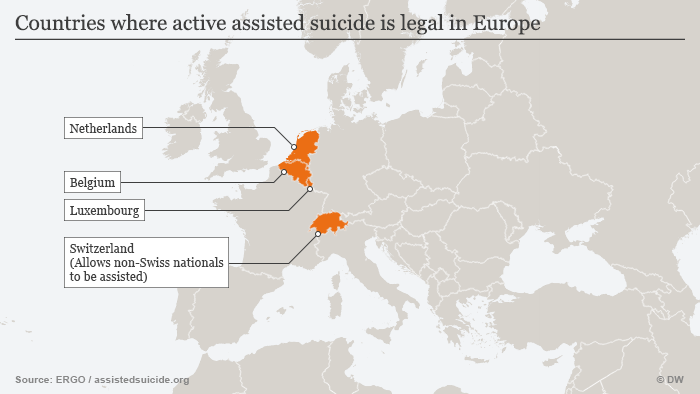 "Assisted suicide must not be an alternative to nursing and palliative care," Sensburg said Friday in Berlin, adding that it was the duty of the doctors to protect life. He said that the doctor assisted suicide should only be allowed under special circumstances.
Sensburg's draft had sought to criminalize any sort of assisted suicide, arguing that "it is not a humanitarian deed to help a person kill himself."
Seeking support for her proposal, SPD's Griese said the bill did not call for assisted suicide as a "medical control power."
Federal Health Minister Hermann Gröhe spoke in favor of the "striking a balance" and said that doctors who perform assisted suicide should not be prosecuted by law. However, he stressed that assisted suicide should not be used as a "treatment option."
Another group comprising deputies of the Bundestag Vice President Peter Hintze supports the possibility of physician-assisted suicide. Renate Künast of the Greens and Petra Sitte of the Left party were in favor of removing legal hurdles to assisted suicide so that any responsible adult who has been counseled by a doctor would have the right to die. This means organizations, like Switzerland's Dignitas, would have been allowed to operate in Germany.
A matter of trust?
Last year, the leading parliamentarians tabled a measure to have assisted suicide protected by the civil code, so doctors could offer it without fear of prosecution.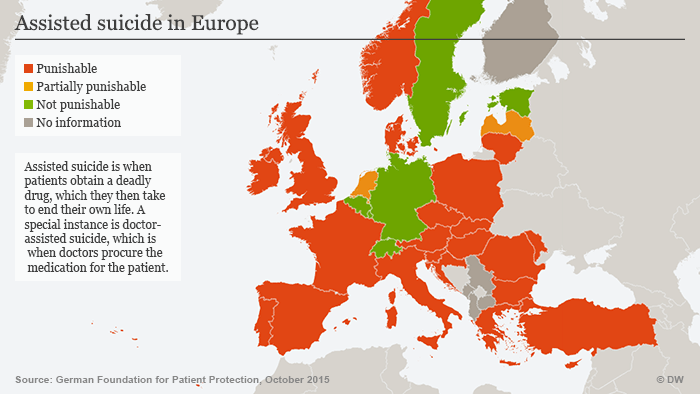 Meanwhile in June this year, the parliament discussed a new care act that would extend palliative care to allow patients to choose to die at home.
Earlier, Frank Ulrich Montgomery, the president of the German Medical Association (GMA), urged the MPs to approve new rules on assisted suicide. He criticized the Brand-Griese proposal and said it undermined the relationship of trust between doctor and patient.
shs/kms (dpa, AFP, KNA, epd)