Rattled by revelations that Germany's Federal Intelligence Service (BND) had helped America's National Security Agency (NSA) to spy on European politicians, EU institutions and companies, the grand coalition has drafted a new law that requires tighter oversight of Germany's intelligence agencies.
Bundestag MPs are to vote on Friday over plans for a new independent panel that must give authorization for the BND to spy on foreign targets, including institutions in Brussels or other EU member states. The body will consist of two judges and a federal prosecutor from the Federal Court of Justice.
The panel would also investigate allegations of abuse of power by the BND in its espionage work and will carry out random checks on the agency's work.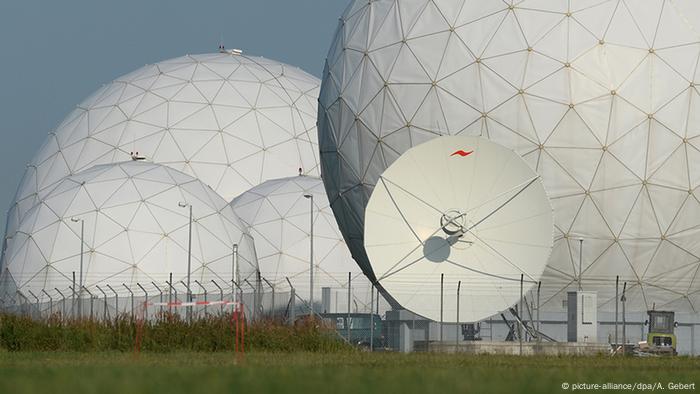 The BND's surveillance station at Bad Aibling
NSA scandal prompted changes
The increased oversight follows the disclosure in recent years that the BND had secretly widened its counter terrorism cooperation with US intelligence agencies to include industrial and political espionage.
Leaked documents revealed that Germany had helped the NSA to spy on the European Commission and the French president.
Under the new code, the BND will still be permitted to work with other foreign intelligence agencies, including the NSA but only under certain conditions and to reach specific goals, to fight terrorism or to ensure the security of Germans abroad.
In future, the BND president will need the Chancellery's permission to tap international telecommunications networks. Previously the BND approved its own surveillance measures. The agencies would only be allowed to store phone and internet data for six months.
Economic spying banned
Under the new plans that are being debated in the Bundestag, economic espionage - with the aim of helping German companies gain a competitive advantage over their foreign counterparts - will be prohibited. But gaining knowledge about issues of national economic importance will still be permitted.
The proposed law also seeks to improve protection for whistleblowers working in intelligence agencies and will force the BND to hold annual public hearings to report on its work.
But opposition MPs says the planned reforms don't go far enough and are likely to vote down the reforms.
"The BND reform law effectively legalizes the BND's notorious breaches of the law. Instead of repentance, reversal or accountability, the BND is being given a free pass to continue mass surveillance," Martina Renner from the Left party, was cited by the German news site "Tagesschau" as saying.
Renner, who sits on the Bundestag's NSA examination committee, said instead of being its American counterpart's "little brother," the BND was becoming its "twin."
Former Justice Minister Sabine Leutheusser-Schnarrenberger of Germany's Free Democratic Party has filed a lawsuit against the proposed law, saying it is unconstitutional.
mm/rg (AFP, dpa)