Tennis balls on the pitch, toilet paper in the goalmouth and in Dortmund, an empty Yellow Wall. When Monday night football was introduced in the Bundesliga last season, German fans made their feelings evidently clear.
And the protests appear to have worked with the German Football League (DFL) confirming on Wednesday that the unpopular fixture slot will be discontinued from the 2021-22 season onwards.
"The DFL can confirm that a decision was made as early as September to abandon Monday games in the Bundesliga when the next media rights deal is negotiated," the organisation said in a statement on Twitter on Wednesday.
Under the terms of the league's current media deal, worth €4.64 billion ($5.28 billion) and covering the 2017-18 to 2020-21 seasons, Bundesliga clubs have already agreed to five Monday night games per season – and this commitment will be honored.
But when the new deal is negotiated early in 2020, Monday night games are to be discontinued as the clubs and the (DFL) look to diffuse the long-running dispute with active fan groups, who see the games as yet another symptom of the perceived over-commercialization of the sport.
The DFL, on the other hand, has always claimed that Monday night games were introduced to ease the fixture congestion suffered by the Bundesliga's Europa League representatives and said in its Twitter statement that this will now be achieved through five additional Sunday games.
German Fan Project Coordinator Michael Gabriel told the DPA news agency that the decision was a "signal that football is listening" and said he was "sure that it will be well received by fans."
- Read more: 'Football needs to decide what its fans are worth'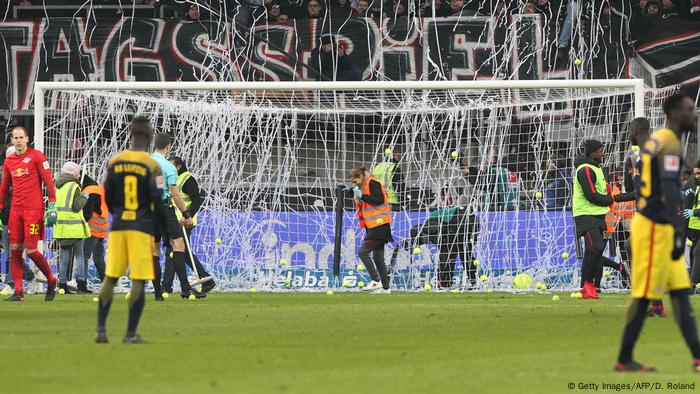 Eintracht Frankfurt supporters disrupted their Monday night game against RB Leipzig last season by throwing toilet roll and tennis balls onto the pitch.
'No more Monday games!'
Monday night football has been commonplace in England's Premier League for years and its introduction in the Bundesliga was welcomed by many fans watching on television. But for hardcore, match-going supporters, Monday night matches involve taking extra days off work and traveling large distances at unsociable hours.
All five Monday night fixtures last season featured protests of varying intensity and, despite the announcement by the DFL, supporter representatives expect the pattern to continue. "It's not just about Monday games in the Bundesliga, but in the second and third division too. And all league games during the week," Jochen Grotepass, a spokesman for campaign group "Unsere Kurve" (Our Terrace) told DPA.
Indeed,the Fanszenen Deutschlands, a national coalition of active fan groups, has announced coordinated, nationwide protests to coincide with the first Monday night game of the 2018-19 season.
"Our message to club representatives and the DFL is clear: No more Monday games!" read a statement published by several leading fan groups on Tuesday, in which they announced a 45-minute atmosphere boycott which is set to be conducted at matches across the country on Matchday 13.
"The scheduling of kickoff times for television is fundamentally opposed to the interests of match-going fans," the statement continued, adding that the protests are aimed at "a football for fans and not for financial gain."
- Opinion: Frankfurt fan defiance demands respect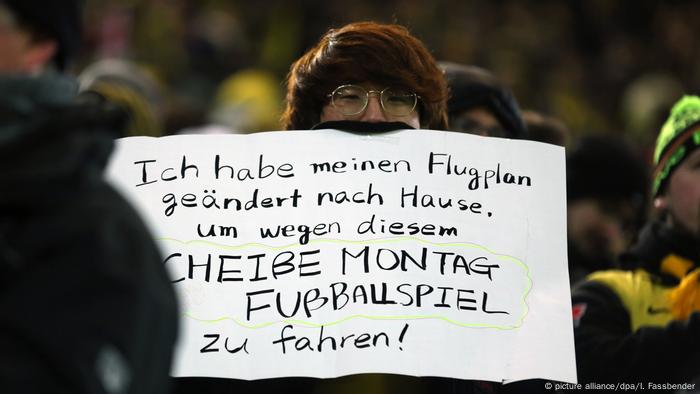 "I changed my flight home so I could go to this **** Monday game!" - a fan in Dortmund last season.
Protests planned in Nuremberg and Rostock
This season's first Monday game, on December 3, sees newly-promoted Nuremberg host Bayer Leverkusen, and both sets of fans had announced wide-ranging protests.
"We didn't get promoted to play on Mondays again!" reads a statement from the Ultras Nürnberg, who intend to go a step further by asking fans not to even enter their block during the first half before "spoiling the DFL's pretty Monday night game" with a "short but intense protest" in the second half.
Bayer Leverkusen's organized support announced back in September their intention to boycott all Monday night fixtures.
The protests are not limited to the Bundesliga. Also on December 3, third-division Hansa Rostock face VfL Osnabrück but the hardcore Suptras Rostock, who have already made headlines for their attention-grabbing displays in cup matches against Stuttgart and Nuremberg this season, have announced a 90-minute atmosphere boycott.
"Monday nights in division three? Not with us," reads a statement from the Suptras quoted by the Faszination Fankurve website. "No banners, no flags, no megaphone, no capo, no support."