During his captivity in the Buchenwald concentration camp as a political prisoner during World War II,writer Bruno Apitz (1900-1979) played what later became known as the "Buchenwald violin."
The instrument, which is estimated to be at least 150 years old, is about to resonate this week for the first time since the Holocaust.
Matthias Wollong, first concertmaster with the Staatskapelle Dresden, will introduce the instrument Thursday evening in Erfurt as part of a "conversational concert," during which "there will be as much talking as music," he told DW.
"It's an exciting new experience to breathe life into history through sound and, above all, to tell this history that way as well. There isn't much knowledge about music in concentration camps. And this concert will hopefully contribute to telling more about this piece of forgotten history," Wollong explained ahead of the concert.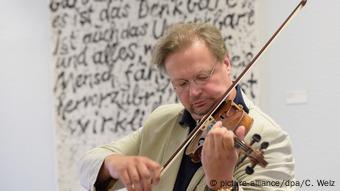 Matthias Wollong says that he can feel the history of the violin when he plays it
Read more: Gerhard Richter's divisive Holocaust art comes to Bundestag
The violins of the Holocaust
The concert, during which pieces of music written in concentration camps will be performed on Bruno Apitz's violin, is part of the Achava Festival, which highlights interreligious and intercultural dialogue between Israel and Germany.
Festival organizers said the inspiration for the concert came not from Apitz, but from the collection of Jewish Lithuanian violinist Moshe Weinstein, who fled to Israel in 1939. He became a violin maker and collected violins from Holocaust survivors, though no one wanted to play them after the war, since they'd been made in Germany.
Weinstein's son inherited his father's collection in the 1980s and took over his business. One day, write the festival organizers, a man walked into his shop with a violin that had been played in Auschwitz. He wanted to have it repaired before he gave it to his grandson. Interest in that era, it seemed, had been renewed.
The link back to present-day Germany is that Dresden-based bow maker Daniel Schmidt became familiar with the Weinstein collection during a stay at his workshop in Tel Aviv in the early 90s. It was Schmidt who put the finishing touches on the Buchenwald violin so that it could be played in concert.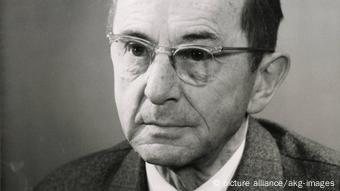 Even though Bruno Apitz played the violin as an amateur, his ability may have helped save his life
Though Bruno Apitz wasn't Jewish, the organizers of the Achava Festival nevertheless wanted to emphasize his commitment to defending freedom in the face of oppression during the Third Reich.
"Bruno Apitz was as multifaceted as he was controversial. As a communist, he was a political prisoner, but political prisoners were often treated as trustworthy counterparts by the SS. And so he survived the camp," said Wollong.
"His name has since become synonymous with his autobiographic book, 'Naked Among Wolves,' and that book was mandatory reading at my school," continued Wollong, who grew up in communist East Germany. He added that Thursday's concert is less about Apitz and more about music at the concentration camp.
Read more: Should Germany keep its Nazi relics to teach young people about the Holocaust?
Music as both torture and refuge
While Bruno Apitz managed to bring the harrowing ordeals he witnessed at Buchenwald to paper, other narratives have been largely forgotten, including the musical traditions that secretly flourished throughout Nazi Germany's concentration camps.
Helmke Jan Keden, a musicologist at Bergische University in Wuppertal says that, while there has been a great deal of academic inquiry into the subject, the broader public in Germany remains unaware of the significant role music played a in concentration camps.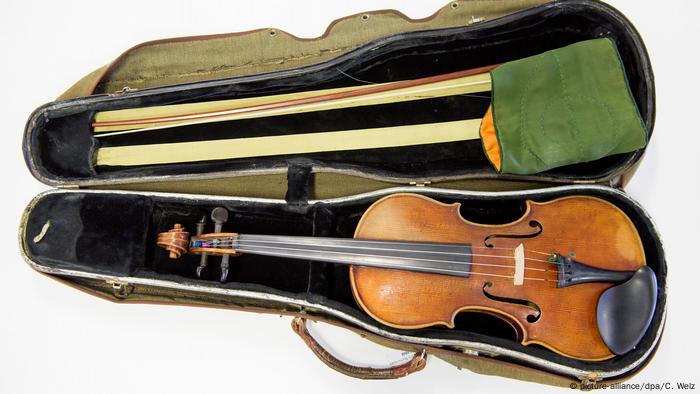 The Buchenwald violin was in good condition when it resurfaced
"Our society associates music with incredibly positive things. It is extremely difficult for many people to even begin to associate music with concentration camps," Keden told DW.
"On the one hand, music helped those incarcerated in the camps to deal with their ordeals, while also trying to create some semblance of normalcy there," he continued. "On the other hand, music was also deliberately used as a form of torture, for instance whenever prisoners were forced to perform in front of German soldiers."
The transcendental power of music
Apitz once wrote that concentration camp prisoners were treated like "luxury slaves" when asked to perform music in front of Nazi soldiers, hinting at the conflicted relationship he had with the violin.
Apitz is said to have never picked up the instrument again after the Holocaust. His widow gave the violin to the Buchenwald memorial foundation after his death in 1979.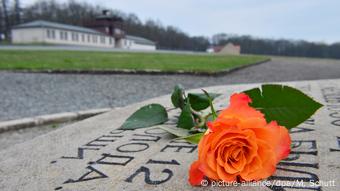 Although it was not designed as a death camp, over 50,000 people died at the Buchenwald concentration camp
There, it was almost forgotten over the years, which meant that when it was rediscovered later, it was in a well-preserved state when it finally arrived in Daniel Schmidt's workshop.
"The violin was in a good, playable condition, which is why there wasn't any need for major work to be done on it. It needed a new bridge and strings, but these kinds of things are pretty normal for such an instrument," said Wollong.
"It's normal for a violinist to play old and historic instruments. But what is exciting about this violin is its unique history. As a musician, you think that is something you can sense, and you kind of want it to be something you can even hear - even if this might be more of a myth than a fact."
Helmke Jan Keden is also excited to have the old violin get a new lease on life. "I think it's great that there are these kinds of events that highlight the incredible potential of music," he said.