Iranian media confirmed on Thursday that Abbas Edalat, a dual British-Iranian national and peace campaigner, is being held in Iran.
"Recently, members of an infiltration network affiliated to Britain have been arrested," reported Iran's semi-official Fars news agency, citing an unnamed source. Fars is considered close to the Revolutionary Guard.
The report then named Edalat, a computer science and mathematics professor at Imperial College in London, as one of those arrested.
The source in the Fars report claimed the network Edalat allegedly belonged to was responsible for leading the 2009 unrest that broke out over the re-election of then-President Mahmoud Ahmadinejad.
On Wednesday, the British Foreign Office said they were "urgently seeking information" from Iranian authorities following reports Edalat had been detained.
Boris Johnson in Iran to press for aid worker's release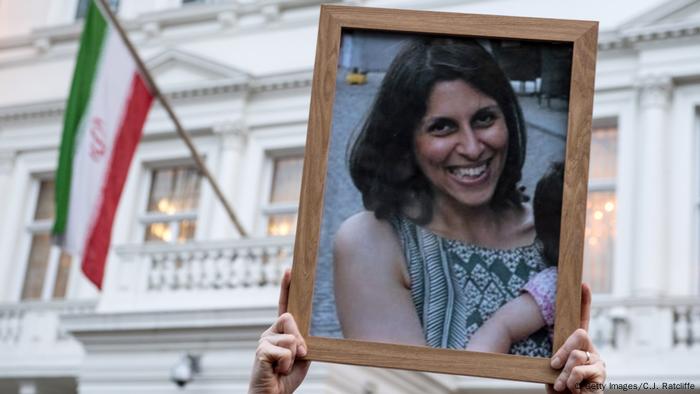 A large campaign was launched to free British-Iranian charity worker Nazanin Zaghari-Ratcliffe who was detained in 2016
Home reportedly raided
The New York-based Centre for Human Rights in Iran (CHRI) first reported that Edalat was detained by the Revolutionary Guard on April 15. He reportedly refused to post bail, saying he was innocent.
CHRI also said that authorities raided Edalat's home in Tehran and confiscated his computer, notebooks and CDs.
Outside of his university work, Edalat is an anti-war activist and also founded a group called the Campaign Against Sanctions and Military Intervention in Iran. He has also written columns for The Guardian newspaper.
Read more: Iran frees Canadian-Iranian professor jailed for months
Dual nationals arrested in Iran
Edalat is the latest dual national to be detained by Iran's Revolutionary Guard. According to CHRI, around 30 dual nationals have been arrested in Iran since the 2015 nuclear deal.
Nazanin Zaghari-Ratcliffe, another British-Iranian dual national, was arrested two years ago. She's currently serving a five-year prison term for allegedly planning the "soft toppling" of the Iranian government.
Some analysts and family members of detainees say the dual nationals are being used by Iranian hardliners as leverage in negotiations with the West.
Since Iran does not recognize dual nationalities, Edalat and others are barred from seeking consular assistance.
rs/kms (AP, AFP)
Every evening at 1830 UTC, DW's editors send out a selection of the day's hard news and quality feature journalism. You can sign up to receive it directly here.