DW: Your wife Nazanin Zaghari-Ratcliffe has been in prison since April 2016. Do you know what the charges are?

Richard Ratcliffe: Nazanin was preparing to fly back to the UK after an annual trip to visit her family in Iran when Revolutionary Guards agents arrested her on April 3, 2016. Our two-year-old daughter Gabriella, who was traveling with her, was put in the care of her grandparents. They said in the media she is accused of national security-related issues, but the official charges against her were not made public. After months of uncertainty, they issued a five-year prison sentence in September.
Did they present any facts?
It is still a bit secret. Honestly, I think Nazanin hasn't ever seen her charges. But her lawyer was giving us a copy which he is not allowed to share with me. He has been allowed to show it to her family once but not to give it to them. She is accused of being a member of an organization against the national security. But she works for Thomson Reuters Foundation, the news agency's charity organization.
And a court in Iran has rejected an appeal against the five-year prison sentence. Do you know anything more?
My wife's appeal was dismissed in a secret hearing of an Iranian Revolutionary Court on January 4, which was announced on January 22. The precise charges against her remain secret, but two new accusations were made at her appeal. One was that she had been head of recruitment for the BBC's Farsi service when it was launched in 2009, which is not true. Many years ago, she worked on a BBC training project for youth in Afghanistan and Iran, but she never worked for BBC Farsi. And the other charge was that she was married to a British spy.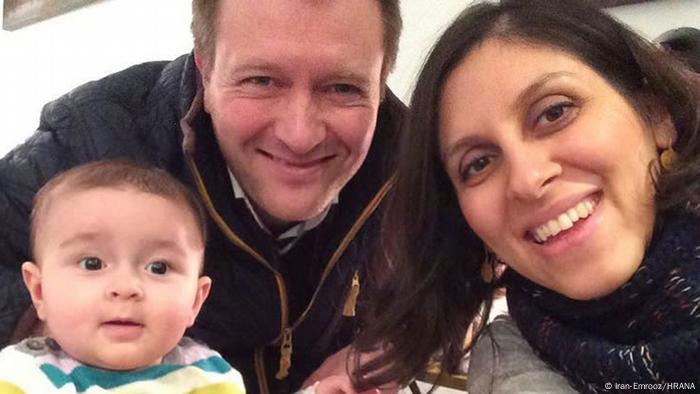 Richard Ratcliff with his wife and daughter
Do you think this is a political case?
They have told my wife and her family this was not a normal case. Regularly, there have been signals, messages sent to us. Clearly, this is a political case.
Your wife holds dual UK-Iranian citizenship. Iran does not recognize dual nationalities, which means that those detained cannot receive consular assistance. But did you get any support from the British government?
The British government has not yet managed to visit her. They have visited Gabriella, our daughter, in Tehran. But not Nazanin. They said they asked the Iranian Government, but the Iranian Government would not allow it.
When did you last talk to Nazanin?
The last time I talked to Nazanin was on February 18, about six weeks ago. Back then, she was quite ill, she was taken to a hospital. Since then, her health has gone up and down. She has a problem with her neck, her back, her shoulder, and also panic attacks. The prosecutor's office has told the family that it is waiting for a judge to approve hospital admission.
She is in the same prison as some prominent political activists. What kind of support does she receive from them?
Now she is much better. The day after Christmas, she was moved from solitary confinement to the general prison. And there are really some amazing people in this prison, who have been going through the same experience - such as some human rights activists, some journalists, other foreigners, including a lady from America and one from Britain. She is with a number of women, having that company is very important. They got to talk about their hopes, their dreams and their families - and their worries, of course.
What kind of help do you expect for your wife?
On April 2, we'll come together with friends and supporters in a north London park near our home on the eve of the anniversary to launch the yellow ribbon "One Day Tree" campaign. We will tie yellow ribbons to trees in the park, attaching messages from Nazanin and other female prisoners held in Evin Prison, as well as from supporters of the "Free Nazanin" campaign. One of the things that are hard for people when they leave prison is that they are so isolated. They have to rebuild their spirit for life. The "One Day Tree" campaign urges people to post messages of what a prisoner might do on the first day of freedom on the#FreeNazanin petition website. Maybe she will be released tomorrow.