The ongoing drama with Brexit is currently the main subject of British musician Matthew Herbert's latest project. Together with his Brexit Big Band Herbert addresses all the various issues and questions that Brexit raises – ironically on their European tour.
The British artist has, for instance, turned Article 50 of the Lisbon Treaty – the judicial basis for Brexit – into a jazz piece, tackling the political issue by humanizing it. But he doesn't stop at politics: Herbert, who strongly believes in the importance of European unity, has also included his criticism of misleading British media reports about Brexit as well as reactions from the public in his work.
"The referendum about the Brexit was a deep shock for me although I had anticipated the result," Matthew Herbert told DW during a stopover in Brussels – the city that is often dubbed "the capital of Europe."
"So I did reckon with the result, and yet I was totally shocked. I felt a strong urge to do something about it."
Musical dialogue
Shortly after the referendum, Herbert founded his Brexit Big Band. "My intention was to initiate a dialogue," Herbert explains. "The Brexit process is often boring, without any inspiration, and quite idiotic. I wanted to create the opposite of all that."
During one of the first concerts after the referendum, Herbert wrapped himself in a British flag. "At first, I was afraid of possible reactions of the public. But when I noticed that most people were just laughing about my gesture, I gave a sigh of relief."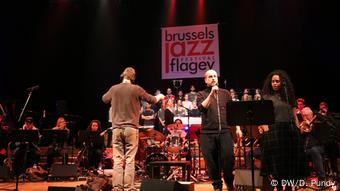 Matthew Herbert at a dress rehearsal in Brussels with the Netherlands Brexit Choir and the Brussels Jazz Orchestra
Matthew Herbert and his band are being accompanied by local choirs and orchestras at various stops of the tour, sometimes bringing together hundreds of musicians. During its most recent performance in Brussels at the 2018 Brussels Jazz Festival, for example, the Brexit Big Band was joined by the Netherlands Brexit Choir, as well as the Brussels Jazz Orchestra.
The tour is personally significance for Herbert, too, who has crosses the English Channel many times for gigs in the past: "Over the last 20 to 25 years, I performed more than 2,000 times in Europe. I owe a lot to the Europeans who attended my concerts and bought my records. It's great to be able to say: 'Thank you very much – and my prime minister is an idiot.'"
A maverick musician
Matthew Herbert's career kicked off more than two decades ago when he started off producing and remixing electronic music. In addition to this, he also composed scores for movies and TV productions.
In the last few years, Herbert shifted his focus on turning nearly everything into music. For his album "Around the House" he mixed typical household sounds into his pieces, and for his album "A Nude - the Perfect Body," he incorporated various sounds from the body – including many strange ones.
Flying messages
In the past, Herbert has used recordings from a pigsty in a musical protest against industrial livestock farming. This is featured on his album "One Pig."
"It's all about making people listen to my music," he explained. His European tour alongside his "Brexit Big Band" is therefore clearly not the first time that Herbert has broached political topics in music. Now with his latest project, Herbert hopes to establish balanced and unbiased dialogue on the sensitive issues Britain's departure from the European Union.
"All the reporting on Brexit is dominated by a handful of media moguls," Herbert criticized. "And too many people just don't have a say."
Herbert criticizes British media reporting about Brexit
That's why the musician tries his best to lend those who feel disenfranchised a voice: during his latest concert in London, Matthew Herbert asked the audience to scribble messages to Europe on pieces of paper, to fold them together into little paper airplanes, and to throw them toward the stage. In return, Herbert and the members of his band threw the paper airplanes back into the audience. The sounds created by these flying messages will be featured on the band's first album.
British media reports have implied that Herbert's project is being promoted and paid for by the British music industry in order to sway popular sentiments on Brexit. The allegations have triggered a storm of protest by Brexit supporters.
Since then, Herbert underlines that his Brexit Big Band isn't biased against Brexit at all, stressing that he had accepted the result of the referendum. "I feel as a European. I'm just trying to contribute something - rather than trying to reverse the referendum."
Nevertheless, the social media outcry that followed those allegations inspired Herbert to write another piece of music about his experience. It is simply called "s**t storm."
'Brexit is a waste of time'
During each of the concerts of the tour, the band makes new recordings for its album, which is yet to be produced. The release date of that album, however, has already been agreed upon: Matthew Herbert and his Brexit Big Band have set the date of the album release on March 29, 2019 - the very day when Britain is expected to leave the EU – or perhaps not.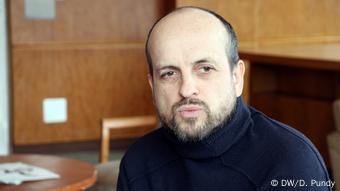 Against all odds, Herbert still hopes that in the end, Britain will remain in the EU
"Against all odds, I still hope that Brexit will never actually take place," says Herbert. "To me, it's just a waste of time." In his view, the last months have shown that the British government is apparently incompetent and lacking inspiration, not understanding that it isn't possible for Britain to simply leave the EU. Herbert thinks that it will take years, or even decades, until a full Brexit can be accomplished.
In the meantime, he keeps working on unique ideas to share his love of music and his passion for Europe. On Brexit day itself, he hopes to continue bridging the rift between the European Union and the UK: "We want to give a concert on a Channel ferry going back and forth between Britain and France. I hope that will distract me from the events that day."