The warning sounded by Deputy Defense Minister Dimitris Vitsas in an exclusive interview with DW comes amid struggling attempts to resume regular migrant deportations to Turkey, regulating an on-again-off-again deal hamstrung by administrative snafus and bureaucratic delays.
"It took the EU about a year get to this agreement... so, a Brexit now," warned the chain-smoking minister responsible for coordinating Greece's response to the refugee crisis, "would mark a serious setback that would undermine Europe's collective handling of the crisis while allowing some states to instead act independently, choosing to deal with the migration problem, or not at all."
Complicating matters, Europe's funding capabilities would also be seriously challenged by a Brexit, the minister cautioned.
He said billions of euros would be divested, potentially dismantling the plan which European leaders stitched together in mid-March after a cascade of border closures that rippled from Austria to Macedonia, shutting down a main migrant transit route running from the battlefields of the Middle East, through Turkey and into heart of Europe.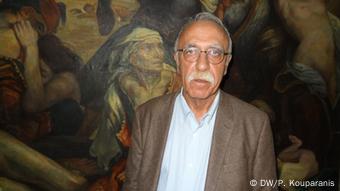 Vitsas warns a Brexit would be devastating for Europe's ability to deal with the migration problem
"The agreement is still in its embryonic phase," Vitsas said. "There are several issues that need to be ironed out, but there's no better alternative plan on the table right now."
Under the two-month-old deal, virtually all migrants and rejected asylum seekers who attempt to enter Europe via the Aegean Sea - including Syrians fleeing war - from March 20 onward will be sent back to Turkey.
In return, the EU has said it will accept one Syrian refugee from Turkey for every Syrian who is returned. It has also pledged up to six billion euros ($6.85 billion) to Turkey, plus visa-free travel to Europe.
Clashes on the island of Lesbos
Since the plan was announced, the number of vessels reaching Greece has dropped dramatically from a steady daily average of about 2,000 migrants to less than 87 reported last week. But the deportation scheme has been struggling and migrants, detained under the accord for over a month, are growing violent.
At the end of April, stone-throwing migrants clashed with police at a key refugee camp on the island of Lesbos after authorities allegedly slapped a minor while trying to round up migrants for deportation.
Images posted on social media showed migrants setting rubbish bins ablaze as riot police deployed teargas to disperse rioting crowds at the Moria camp. Since then, authorities have beefed up security presence at the compound.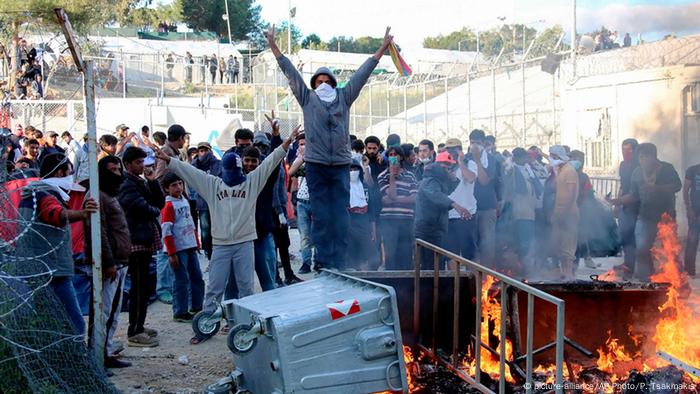 Recent clashes erupted at Moria migration detention center where migrants set garbage bins ablaze
Only three batches of less than 400 migrants have been returned to Turkey since the March start of the deal - a far cry from the estimate 6,000 initially anticipated. What's more, just a dozen deportees have been Syrians so far, bringing Turkey's "one-for-one" European relocation process to a screeching halt.
It remained unclear whether the resignation of Turkish Prime Minister Ahmet Davutoglu would affect the migration deal he championed with the EU. Neither President Recep Tayyip Erdogan nor any of Davutoglu's considered successors have shown any great interest in the pact designed to stem the flow of refugees across the Aegean Sea.
Since the agreement took effect, human rights advocates have slammed it, voicing concern that migrants and others will be deported without full and fair asylum reviews, subjected, instead, to flash hearings.
But during the interview, Vitsas rejected those claims, blaming the EU for failing to quickly deliver on pledges to help set up a functioning asylum system in Greece.
Too little, too slow?
"There should have been 158 asylum experts here, plus hundreds more in interpreters and special equipment," the minister complained. "Only 50 are in place, now, and they are processing 50 asylum requests a day."
That's five times less than initially planned, leaving Greece to bear the brunt of the deal as it also struggles to cope with some 54,000 migrants stranded in the country after the border closures.
Although 35 sheltered facilities have been set up across the Greek mainland in recent months to accommodate those migrants, about 20,000 of them remain stranded at a sprinkle of unofficial camps, including the fetid site of Idomeni, along the Greek-Macedonian border where many asylum seekers refuse to accept that their passage to Europe has been shut.
"Convincing them to move to a proper camp has been the biggest challenge," Vitsas said. "We don't want to use force against them."
Still, he said, with violence surging and ailments spreading fast, the government was preparing to "ramp up" efforts to evacuate the camps in the coming weeks, sealing them off from any future migrant returns.