The withdrawal of the military came after widespread criticism saying that the move was excessive, amounting to little more than an effort by President Michel Temer to hold onto power amid increasing calls for his resignation. The measure to deploy 1,500 federal troops to the capital was seen as highly controversial in a country with living memory of more than 20 years of military dictatorship.
In a decree published in the Official Diary, Temer revoked the order issued the previous day, saying that "the halt to acts of destruction and violence and the subsequent reestablishment of law and order" had motivated him to pull back the troops. Soon after, soldiers reportedly began to leave their posts in Brasilia.
The mobilization of the military to aid the police was originally intended to remain in effect for at least a week, the government had said earlier.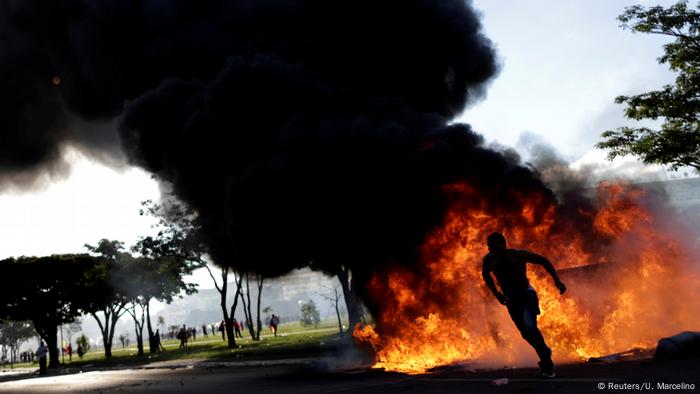 Protestors set fire to the Ministry of Agriculture, prompting government employees to be evacuated
Violent clashes
Authorities made eight arrests during confrontations between security forces and protesters in Brasilia on Wednesday, while nearly 50 people sustained injuries in some of the most violent scenes yet in a year of political turbulence. Numerous windows were broken in government buildings in the capital, especially at the Ministry of Agriculture and the Ministry of Culture, and attempted arson was reported at other ministries. Riot police launched tear gas and stun grenades into the crowd.
An estimated 35,000 people descended on Brasilia, marching towards the presidential palace in protest. Most of the rally went peacefully; however, small groups of demonstrators wearing masks threw stones at police and smashed their way into government buildings.
The demonstration was called by left-wing groups to protest Temer's presidency and oppose proposed labor market reforms as well as austerity measures. Demonstrators demand that Temer resign as details about an investigation into corruption allegations against the president continue to emerge.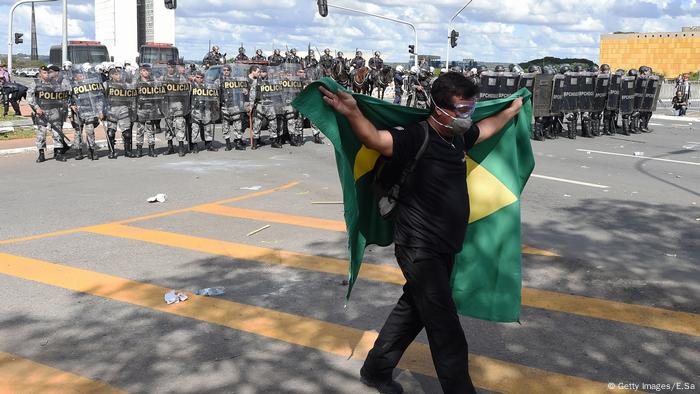 About 35,000 demonstrators descended on the capital Brasilia
No way out for Temer
Conservative Temer had replaced leftist former-President Dilma Rousseff last year after she was impeached for illegally manipulating government accounts. Rousseff maintained that the charges were fabricated.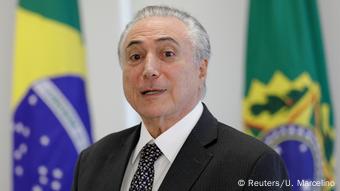 Temer is holding on to power despite losing nearly all his political allies
However, Temer's own corruption trial is likely to destroy his political career by all accounts. Last week, Brazilian General Prosecutor Rodrigo Janot said he wanted to investigate Temer for corruption and obstruction of justice, passive corruption and criminal organization. The country's Supreme Court has authorized the probe.
Temer is facing allegations that he endorsed the paying of hush money to a former lawmaker who has been jailed for corruption. Temer denies any kind of wrongdoing.
In addition, several of his advisers have been linked to Brazil's massive corruption investigation, known as Operation Car Wash.
ss/sms (AFP, AP, dpa)