O Globo claimed that a businessman secretly recorded the president having endorsed payments to keep the silence of the potential graft probe witness Cunha, once a key figure in Temer's center-right party.
Some of the president's leftist opponents have already called for his impeachment over the report.
Several hundred anti-Temer protesters gathered in Sao Paulo, while in the capital Brasilia motorists honked horns and yelled "Temer out!"
Brazil's Petrobas corruption and embezzlement scandal has enveloped the country's political elite - across party lines.
'Never solicited payments'
Temer's office has denied the allegations that he endorsed paying off a witness.
It released a statement saying the president had "never solicited payments to obtain the silence of former deputy Eduardo Cunha," who in late March was sentenced to 15 years in jail for corruption.
Temer acknowledged Wednesday that on March 7 he was visited by Joesley Batista, an executive of the meat-packing giant JBS, but added that their conversation did not "compromise his conduct."
JBS declined to comment.
Buying silence?
O Globo claimed that Batista told Temer that he was paying money to Cuhna to buy his silence. Temer then allegedly told Batista: "You need to keep that up, okay?"
Last year, Temer took over as president after the impeachment of Dilma Rousseff in a ruction attributed to the then-powerful Cunha.
Globo did not release the purported recording but said the information came from a plea bargain between prosecutors and JBS' Batista.
The Workers' Party named five other parties in a statement that called for Temer's resignation and snap elections.
One year in office
Last week, Temer marked his first year in office, expressing optimism about reforms planned for Brazil's weak economy amid a slump in voter support.
The new scandal could further undermine support in Congress for austerity reforms, particularly a push to raise the minimum age for retirement in a bid to fix Brazil's costly pension system.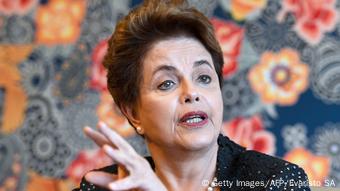 Former President Dilma Rousseff was removed from office last year
Unemployment figures released in early May show joblessness up to 14 million.
A recent survey credited Temer with only 9-percent voter endorsement for performance - below Rousseff's standing at the moment of her suspension for allegedly masking data on the depth of the country's recession.
Forests eyed under law changes
On Wednesday, the World Wildlife Fund for Nature (WWF) said law changes intended by Temer's government endangered a giant swathe of rain forest and opened up indigenous reservations to mining.
The WWF described the plan as an "offensive," involving an area of about 80 thousand square kilometers, "almost the size of the territory of Portugal."
On Tuesday, a congressional panel backed by Brazil's powerful farm lobby called for the dismantling of the Indian affairs agency Funai.
Non-governmental organizations (NGOs) working on indigenous rights and environmental conservation in Brazil said removing the agency would leave Brazil's indigenous tribes unprotected from an advancing agricultural frontier.
"The future will be for soy, corn and sugar cane," said Workers Party lawmaker Nilto Tatto. "This is the same vision that wants to destroy the forests of Brazil."