The Petrobas corruption probe continued to send shockwaves through the Brazilian political system as it claimed yet another high profile victim.
Eduardo Cunha, once one of the Brazil's most powerful law makers and the "architect" of the impeachment process against former leftist president Dilma Rousseff, was arrested on Wednesday in Brasilia.
Cunha, 58, is accused of taking millions in Petrobas-related bribes, laundering money and depositing funds in a secret Swiss bank account. He denies all charges.
Judge Sergio Moro, who is presiding over the nationwide probe into the Petrobas scandal, ordered Cunha's arrest, citing "preventative measures". He said that Cunha posed a risk to "public order, as well as a concrete possibility of flight given his access to hidden resources abroad, as well as double nationality." This means that the former congressional member, who also holds Italian citizenship, can be held for an indefinite period.
The former speaker of Brazil's lower House of Deputies was a central figure behind Rousseff's impeachment. He orchestrated the April vote that initiated the impeachment process against the then-president.
Rousseff was found guilty of breaking government budget laws. Brazil's senate voted overwhelmingly to remove her from office in August.
However, two weeks later Cunha was himself removed from his position as corruption allegations caught up with him. He became the first sitting politician to be charged in the scandal.
Cunha proved a master in riding out his legal problems to maintain his influence in the impeachment proceedings against Rousseff. Using a variety of stalling tactics, Cunha managed to delay his ousting from congress for almost a year, making it one of the longest political trials in Brazilian history. Cunha also earned the nickname "Brazil's Frank Underwood," after the scheming protagonist in the US political drama "House of Cards."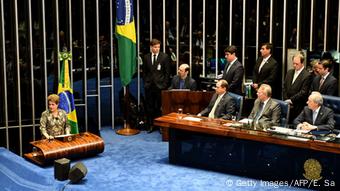 Dilma Rousseff speaks during her impeachment trial
He remained defiant to the end, claiming that he was paying the price for the instigating the impeachment proceedings. "It is the price I am paying so Brazil can be free of the (Workers' Party)," he said. No matter his fate, he said, no one can take away "the pleasure of seeing that criminal government go."
Cunha is a longtime member of the Brazilian Democratic Movement Party (PMDB) of current President Michael Temer. The President has refused to comment on Cunha's arrest out of fear he may turn state's witnesses and implicate fellow PMDB politicians.
'Operation Car Wash'
The Petrobas corruption probe, colloqually referred to as "Operation Car Wash," has seen almost 200 politicians and executives charged with embezzlement and bribery, of which 83 have been found guilty.
Rousseff's predecessor and icon of the leftist Worker's Party Luiz Inacio Lula da Silva has been accused of being the scandal's ringmaster. He faces three corruption charges, while speculation is rife that he could be placed in pre-trial detention.
Temer has been accused of trying to weaken the Petrobas investigation, which he denies. However, several of his choices for ministerial posts have also been accused of taking part in the embezzlement scheme.
Rousseff and her supporters maintain that she is the victim of a "coup," carried out to halt further investigations into the Petrobas probe. They have pointed at Cunha as the most coarse example of that effort.
dm/jr (AFP, Reuters)