President Michel Temer appealed to the nation again on Saturday, saying he had filed a petition with the country's highest court to suspend the corruption investigation against him. Visibly defiant, he again refused to resign saying "Brazil will not be derailed."
Brazil's top prosecutor has accused Temer of corruption, obstruction of justice and being part of a criminal organization, according to court documents released Friday.
Temer wants to suspend the investigation until experts can analyze a March 7 audio recording that appears to show him endorsing the payment of bribes to ex-House Speaker Eduardo Cunha for his silence.
Cunha had helped orchestrate the impeachment and removal from office of former President Dilma Rousseff last year.
He was sentenced in March to 15 years in prison for corruption and money laundering.
"That clandestine recording was manipulated and doctored with [bad] intentions," Temer said at a news conference in Brasilia, questioning the motives of the JBS meatpacking company executive Joesley Batista who made the recording in March at the president's residence in the capital.
According to newspaper O Globo, the recording was made as part of a plea bargain Batista arranged with prosecutors investigating the "Car Wash" corruption scandal centered on national oil company Petrobras.
O Globo, the main newspaper of Brazil's biggest media company, said in an editorial that Temer "has lost the moral, ethical, political, and administrative conditions to continue governing Brazil."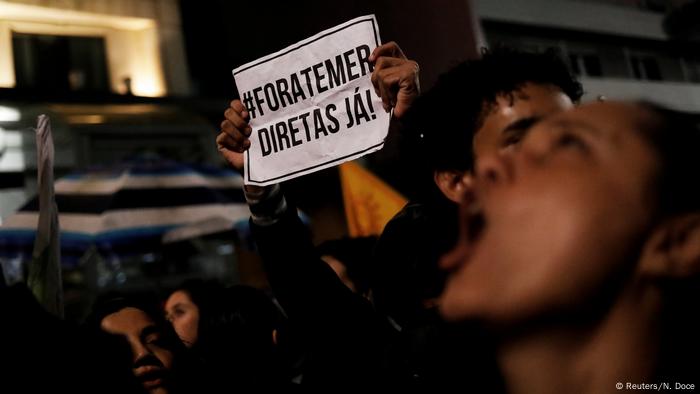 Protests against the president have called for new elections
Socialists back out
Ahead of Temer's statement, the Brazilian Socialist Party announced on Saturday it was leaving Temer's ruling coalition and called on him to resign.
The Socialists have seven senators and 35 deputies. Their withdrawal from government puts in jeopardy plans to reform the pension system and labor laws.
Several other parties in Temer's coalition said they would consult with their members on Saturday on whether or not to remain.
Temer was former President Dilma Rousseff's deputy and came to power when she was ousted for illegally managing the federal budget.
At least eight pieces of proposed legislation to impeach Temer have been submitted in Congress.
jm/cmk (Reuters, AP)