Protests against Brazil's president, Michel Temer, turned violent Wednesday in the South American nation's capital, Brasilia.
While most of the tens of thousands of protesters were peaceful, several scuffles with police broke out, some turning violent.
Protesters set fire to the basement of an Agriculture Ministry building during the protests while they marched towards the presidential palace. The palace is located near Congress and other ministry buildings.
"At this moment, federal troops are already here (in the Foreign Ministry). And next, there are troops arriving to secure all the ministerial buildings," said Defense Minister Raul Jungmann in a televised statement.
"There was an invasion of the ministry's private entrance. They lit a fire in a room, broke photos in a gallery of ex-ministers and confronted police. The building was evacuated," a ministry spokesman told AFP.
Protesters also broke into the culture and planning ministries, forcing surrounding ministry buildings to be evacuated. Brasilia police said there were multiple injuries during the protests, including at least one person who was injured by a gunshot.
'Out with Temer!'
The protest, which was organized by labor unions and social organizations, demanded Temer resign after a leaked conversation supposedly between him and jailed ex-Speaker Eduardo Cunha showed Temer was possibly involved in a hush money scandal. Wednesday's demonstration in Brasilia was also showing opposition toward reforms to extend working hours and reductions in labor unions' powers. Protesters chanted "Out with Temer" and held signs calling for his immediate resignation.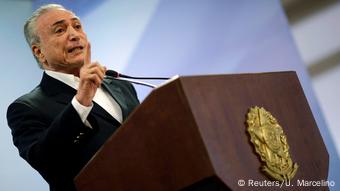 Brazil's president, Michel Temer, has refused to step down in the wake of a hush money scandal
Temer took power in August 2016 after the previous president, Dilma Rousseff, was impeached for breaking budget laws. In the short time that Temer has been president, he has been repeatedly accused of being part of the ongoing Operation Car Wash scandal. The scandal has implicated many other politicians accused of receiving kickbacks from construction company Odebrecht and oil company Petrobras.
Temer has refused to resign in the wake of the scandal. If Temer were to resign, the constitution states there would be a 30-day rule by the speaker of the lower house, as there is currently no vice president. After the 30-day period, there would be an indirect election of a new president by Congress.
kbd/kl (AFP, AP, dpa)