Brazil's incoming far-right government on Monday nominated Roberto Castello Branco as the future CEO of the country's state-owned oil company Petrobras.
Castello Branco, who was once on Petrobras' board, has in the past spoken in favor of privatizing the company, which employs 60,000 people. Before his time at Petrobras, he was director of mining company Vale from 1999 to 2014.
Petrobras has said in a statement that the current chief executive, Ivan Monteiro, will remain until the new government takes office on January 1.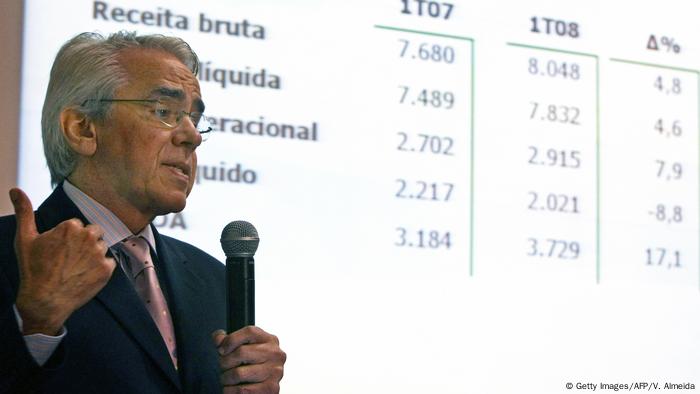 Castello Branco was director at mining company Vale for some 15 years
Uncertain direction
The nomination comes as the team under President-elect Jair Bolsonaro mulls over the degree to which the company should stay in state hands.
Bolsonaro himself says he wants Petrobras to remain under state control, but that he would be willing to allow some assets to be privatized, while his pick for economy minister, Paulo Guedes, advocates a full privatization. Guedes, like Castello Branco, studied at the University of Chicago.
However, military generals associated with Bolsonaro are opposed to the idea, which is also likely to be unpopular with the transportation sector, chary of an end to subsidized fuel prices.
Read more: Understanding the populist narrative
Beleaguered company
Earlier this year, Petrobras triggered a long-running truckers' strike by introducing market-driven fuel prices. The unrest subsided only after the current Brazilian government under President Michel Temer provided fuel subsidies to reduce the price of diesel.
The public image and profits of Petrobras, once a national figurehead, took a battering in recent years owing to its central role in the "Car Wash" investigation, with officials at the company alleged to have taken bribes in exchange for giving construction firms lucrative contracts.
tj/rt (AP, Reuters)
Each evening at 1830 UTC, DW's editors send out a selection of the day's hard news and quality feature journalism. You can sign up to receive it directly here.