Brazil and Malaysia, which both endured massive corruption scandals in 2015, suffered steep declines in the latest corruption perception index, which is produced annually by the watchdog organization Transparency International (TI).
Among the 168 countries ranked by TI, Brazil suffered the steepest decline plunging seven notches to 76. They scored just 38 points on the 0-100 scale, with 100 being a virtually corrupt-free society.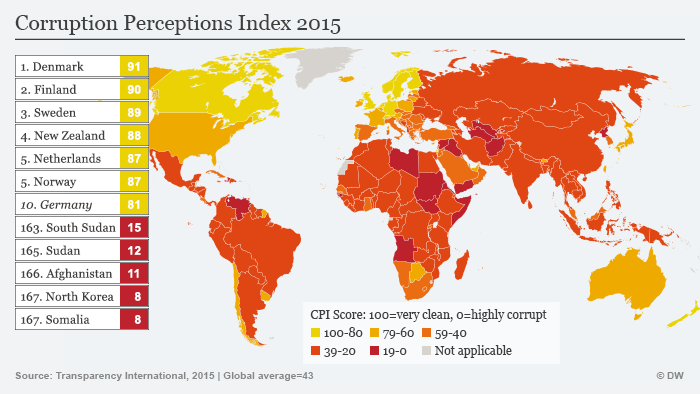 Denmark, again, had the cleanest government, posting a score of 91 – followed closely by their Nordic neighbors, Finland and Sweden, and other Western countries New Zealand and the Netherlands rounding out the top five.
The United Kingdom jumped three spots, with a score of 81, to finish in 10th place, tied with Germany and Luxembourg.
The United States inched up one notch, finishing 16th with a score of 76. It was their highest score, yet, and tied them with Austria.
A massive corruption scandal at Brazil's state-run companies, including oil giant Petroleo Brasileiro SA (Petrobras), which involved allegations against top government officials, keyed Brazil's decline.
The Petrobras case has had a "tremendous impact... in the real uncovering of the way that the political networks and businesses have been covering up decades of corruption in the country," said Robin Hodess, a research director at TI.
Corruption scandal rocks Malaysia
Ironically, just hours before TI released their latest report Malaysia's top prosecutor cleared Prime Minister Najib Razak of wrong-doing, highlighting Malaysia's corrupt public sector.
For months, the prime minister has been unable to adequately explain how $680 million (626 million euros) ended up in his bank account. It's alleged that he funneled the money out of a now struggling state-owned company.
He insists the money was a personal loan from the Saudi Royal family, but has failed to explain "why this donation was made," said Samantha Grant, TI's Southeast Asia coordinator.
"I think this case really highlights that kind of problem and the fact that… really working at the roots of corruption in Malaysia hasn't really been given enough political will and honest attention," she said.
Russia jumped 17 places but still finished 119th with a score of just 29, tied with Azerbaijan, Guyana and Sierra Leone.
On the bright side, TI noted that 64 countries improved their score while only 53 declined. But overall, two-thirds of the countries measured scored less than 50 on the 100-point scale.
"Corruption can be beaten if we work together," said TI chairman Jose Ugaz in a statement. "To stamp out the abuse of power, bribery and shed light on secret deals, citizens must together tell their governments they have had enough."
bik/jil (AP, AFP, Reuters)