Tuesday's announcement potentially ended months of uncertainty for Najib, after the revelations surfaced last July that $673 million (622 million euros) was discovered in his private bank accounts.
Attorney General Mohamed Apandi Ali said he had reviewed evidence from Malaysia's anti-graft agency, which showed that the money had been a "personal donation from the Saudi royal family."
"I am satisfied that there is no evidence to show that the donation was a form of gratification given corruptly," Apandi said in a statement. But he gave no further details of why the payments were made.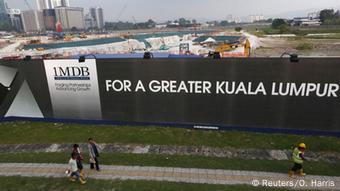 1MDB built KL's first dedicated financial district.
Police authorities were ordered to end all investigations into the case.
But the findings also revealed an unexpected twist, with the involvement of the Saudi royal family and scant details of why he received such a large payment.
Najib has faced massive protests and regular calls to quit, as the financial scandal engulfed his administration just as the worst recession since the 1998 Asian financial crisis hit.
Opponents not satisfied
Malaysia's main opposition accused Najib of siphoning off cash from a struggling state-owned company that he launched and whose advisory board he chairs.
Last July, the Wall Street Journal reported that hundreds of millions of dollars had gone missing from the firm 1Malaysia Development Berhad (1MDB), claiming they had been funneled to Najib's bank accounts.
Najib claimed the payments, which were paid in 2013, were from unnamed Middle East donors,but refused to be drawn on whom. He also denied any wrongdoing regarding 1MDB.
The leader of Malaysia's main opposition party accused Apandi of a conflict of interest.
"The attorney-general should not have been involved in the decision affecting the PM because he was appointed by the PM," said Lim Kit Siang from the Democratic Action Party.
Local media reports that $520 million (480 million euros) was returned five months after the transfer because it had not been utilized.
Malaysian law does not limit political donations to individuals or parties from foreign donors.
But Apandi's ruling is weakened by the fact that he was installed by Najib after the firing of country's previous attorney general who was investigating the scandal.
Najib's office declined to comment on Tuesday's findings.
mm/jil (AFP, dpa, Reuters)